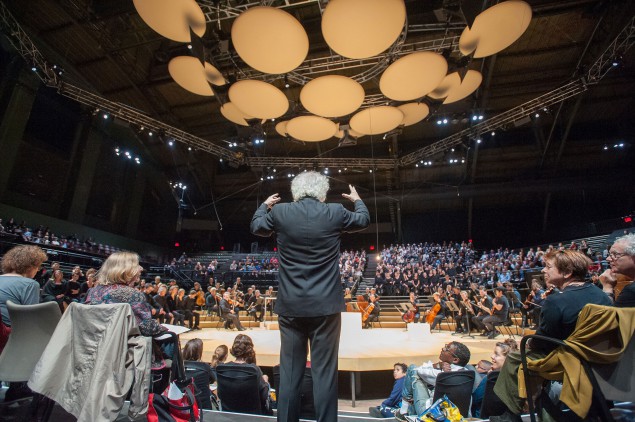 Have you ever been invited to a party you really looked forward to, one of those "event-of-the-season" sort of affairs, and when you finally arrive, you don't feel like you quite fit in?
Well, that's what happened last Wednesday at the St. Matthew Passion, a co-presentation of Lincoln Center's White Light Festival and the Park Avenue Armory. The Berlin Philharmonic's staging of Bach's magnificent sacred oratorio was luxuriously cast and exquisitely played, and the audience packing the purpose-built performance space in the Armory seemed to hang on every note. And yet, while I was filled with admiration for the excellence of many individual elements, the totality was a bit of a letdown.
What nagged most was the exclusivity of the event, especially in contrast to the sense of inclusiveness implied in the staging of the work by director Peter Sellars. Inspired by the arena-style configuration of the orchestra's home auditorium, the Berlin Philharmonie, he conceived the Passion as a dialogue between performers and audience.
For the Armory presentation, a virtual duplicate of the tiered interior of the Philharmonie was constructed, and conductor Simon Rattle, orchestra, soloists, and a 66-member chorus whisked into New York—all for just two performances. These sold out immediately at a $250 top, and soon started turning up on StubHub.com for more than 10 times their face value. The week before the concert, presenters took the "democratic" step of opening a dress rehearsal of the show to the general public—or at least as general a public as could afford $125 a head.
As such, the presentation's "sense of community"—as touted in the show's program notes—involved a demographic indigenous to the Silk Stocking District. Among so homogenously white and well-heeled an audience, Mr. Sellars' concept of "inclusiveness" felt ironic at best.
If the grand emotional gesture of the piece was somewhat blunted, the details were exquisite. Mr. Sellars' particular gift is to free up singers emotionally and physically so they can express themselves with their whole bodies, not just their voices, and he succeeded brilliantly here. Without attempting an actual depiction of the events of the Passion, the director devised constant but subtle movement that focused attention on musical highlights.
The action began with a weary-looking Evangelist (tenor Mark Padmore) slouching beside a rectangular blonde wood box. As the music started, he was joined by the chorus, clad in casual black garb. The "box," we realized, was the tomb of Christ, and the chorus represented followers gathered to mourn. Here the cast's obvious respect for Mr. Sellars' concept paid off handsomely. All those gloomy Germans in their black v-necks could easily have evoked "Now is the time on Sprockets when we sit shiva," but their sense of deep commitment obviated any snickering.
Mr. Padmore's Evangelist, whose role as defined by Bach is simply to narrate, here so empathized with Christ's suffering that he seemed to relive every moment of agony. The tenor's unearthly head voice and nonstop physical engagement over more than three hours of performance time combined to create an oddly effective sense of suspense, despite the familiarity of the story.
One of Mr. Sellars' most striking ideas was to place the singer of the words of Jesus (the mellow baritone Christian Gerhaher) increasingly far away from the center of the action, until his last lines echoed down from the rafters of the Armory. The effect was of his physical body gradually fading away, leaving only spirit.
Of the major soloists, soprano Camilla Tilling and alto Magdalena Kožená were in top form, with Ms. Kožená's performance of the Passion's best-known aria, "Erbarme dich, mein Gott," sounding almost unbearably sweet in its simplicity. So natural and unaffected a performance requires enormous preparation, but this artist made the doleful melody sound as natural as an improvisation.
Next to them, the men sounded off-center. Topi Lehtipuu's gentle tenor turned fragile in his aria "Geduld, Geduld," rescued only by Ulrich Wolff's responsive playing of viola da gamba obbligato. Eric Owens's usually impressive bass-baritone was here all gravel and snarl. His best moment was non-singing: as he collapsed with grief center stage, his loose-fitting shirt flapped up, revealing his bare belly. Whether this was an intentional choice or not, the gesture felt heart-breakingly human and vulnerable.
As for Mr. Rattle, he was so intensely involved in the action that he seemed at any moment about to burst into song. His take on the score was a little old-fashioned, the way Bach was played a generation ago or more, but in this context somehow just right. This was Bach, you felt, the way Mr. Rattle hears it.
All that was missing, fact, was that moment of transcendence at the heart of the greatest artistic experiences. I realize that's a tall order, but, at those prices…
On the other hand, the Met's revival of Mozart's Die Zauberflöte (heard October 6) was no bargain at any price. Julie Taymor's glitzy staging, all plexiglass columns and quirky little bird puppets, expunged any hint of spirituality from this tale of a rite of passage into a mystical benevolent brotherhood. Soprano Pretty Yende sounded ravishing but tentative as the heroine Pamina; in contrast, her handsome prince Tamino, tenor Toby Spence, was in confident but unlovely voice. René Pape's bass is so intrinsically beautiful that he can get away with phoning in the role of Sarastro, but it would be nice if he pretended to make an effort.
Rescuing this performance from utter direness was the conducting of Adam Fischer, brisk and crisp, and especially the performance of Markus Werba as the bird-catcher Papageno. Not only did he lavish a large, rich baritone on a part often sloughed off on whatever barihunk happens to be in the building, he brought the evening to life with ad-libs so funny they got laughs even from an audience that doesn't speak a word of German.
Maybe, then, it's all a matter of expectations: taken by itself, the St. Matthew Passion felt a little mundane. But compared to Zauberflöte, it could have been the Second Coming.