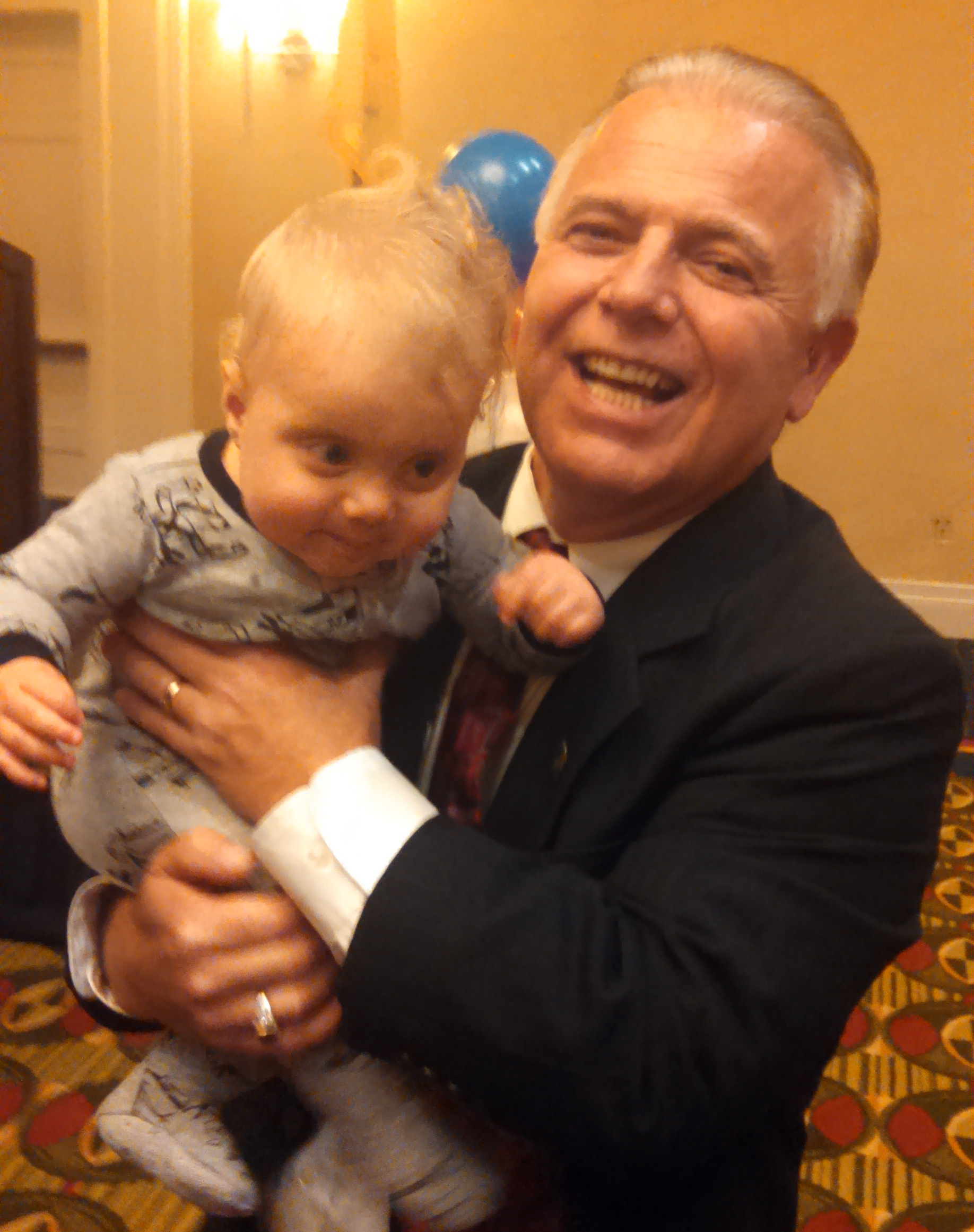 WHIPPANY – It only took state Sen. Joe Pennacchio (R-26) one quick sentence, muttered in between forkfuls of penne vodka pasta at his fundraiser in the Marriot Hotel here last night, to sum up what undoubtedly many Republicans in the state feel about U.S. Senate candidate Jeff Bell.
"Nice man, eminently qualified, will vote for him — I just hope his message has evolved since last month," Pennacchio said, referring specifically to Bell's support for bringing back the gold standard.
A 70-year-old policy-wonk based in Washington D.C. for the last 30 years, Bell has made championing a return of the gold-backed dollar a cornerstone of his campaign, arguing that the monetary system would help keep increasingly unpredictable prices stable. He's decried the country's current method of controlling prices — close to zero interest rates from the Federal Reserve — and says his would be better for small businesses and economic growth. In fact, Bell has talked about little else in his race against Democratic incumbent U.S. Senator Cory Booker (D-NJ), preferring to stick to a "one-issue [candidacy]," in the candidate's own words.
But the issue has served as little more than fodder for Booker's campaign, who has blasted the Republican for his "defunct and defective" ideas. Some Republicans too have wondered, mostly privately, why Bell, who recent polls show trailing Booker by just 13 points, would place all his chips on a complicated, largely fringe economic issue that few voters care about — or care to know about. That animosity seems to have resulted for Bell in a candidacy that not only has been made easy work of by his competitor, but also finds itself lacking the concerted support of his own party.
"Look, I'm going to vote for Jeff Bell, but it's not about the gold standard," Pennacchio said, reinforcing the notion that Bell, in a race where a wildly popular incumbent is leading his comparatively obscure opponent by a surprisingly small margin, still can't seem to find widespread support from the GOP. "You know, you have ISIS killing people, you have an economy that quite frankly has never come back from the levels that I think it should come back to. We were one of the last countries in the world to give up the gold standard — it's not like we did it and everybody followed us. I don't think there's enough gold in the world to do what he wants to do."
Indeed, most Republicans — both at national orgs like the National Republican Senatorial Committee and at state ones like the NJGOP — seem to have only a begrudging interest in Bell's campaign. Despite dealing with some dire financial straits — Bell was running his campaign out of a hotel lobby until recently — and polling numbers that show he might actually be in reach of beating Booker, the NJGOP has only held one fundraiser so far for the candidate (though another is scheduled for this week). And the NRSC, according to an interview with Bell in the Weekly Standard, seems to have ignored him entirely.
For Pennacchio, it's obvious why Bell has gotten the cold shoulder. For one thing, few Republicans see his message — and thus his candidacy — resonating with Jersey "folk." And for another, he's spent relatively little time in New Jersey since fleeing to Washington D.C. in the 1980s, after being handed defeats in two other New Jersey senate races, in 1974 and 1982.
"We could've used his help during last year's state senate races," Pennacchio said, sorely.
On the other hand, if it's true Republicans are unhappy with Bell's campaign, others are doing a good job hiding it. PolitickerNJ posed the same question about the Republican's candidacy to two other conservative lawmakers in attendace at last night's fundraiser and received more upbeat — if not still a little measured — responses, both optimistic about Bell's chances.
"I think he's articulating his message very well," Assemblyman Jay Webber (R-26) told PolitickerNJ, though he stopped short, in the parking lot of the Marriot following the event, of opining on whether that message is enough to win over voters.
"All I'll say is when I ran for senate, we had already debated twice," Senate Minority Leader Tom Kean, Jr. (R-21), who campaign for U.S. Senate in 2006, said, jabbing at Booker's continued refusal to publicly debate Bell.
Pennacchio, who mounted his own U.S. Senate run in 2008 against former Congressman Dick Zimmer to little success, maintained that the issue isn't personal. Bell is a strong candidate, he said, and fully capable, but with a flailing campaign bogged down by policy issues too unorthodox to attract widespread appeal, doesn't see him making any headway among voters.
"Very, very smart man," Pennacchio said. "I think he'd make a great senator, actually. But to be a great senator you have to get elected. He needs a message that has to resonate."