PERTH AMBOY – Again the local rugged waterfront streets beckon, where even the widest eyed U.S. Senator bends to the tableful of school board candidates, and where the same pastel colored campaign signs that once irritated Steve Lonegan look small alongside the massive posters for the council candidates of Mayor Wilda Diaz.
In shirtsleeves, a campaign rumpled state Sen. Joe Vitale (D-19) cracked a grin amid applause when Senator Cory Booker (D-NJ) – on the ballot next Tuesday and here to rally about 70 people in a wood-paneled ironworkers hall – called the Woodbridge Democrat the "James Brown of the state senate."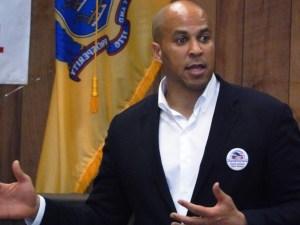 Huddled up next to each other while Booker regaled the crowd by urging them to watch the movie "Street Fight" about his Newark years, Diaz and Vitale form a power alliance that will get tested on Tuesday.
Next week, Booker's supposed to blow out his Republican opponent, gold standard champion Jeff Bell.
But the Diaz-Vitale-backed ticket of Council President Joel Pabon, Sr., Councilman William Petrick and their running mate Sergio Diaz give off dogfight vibes as they attempt to withstand former Councilman Fernando Gonzalez, Ana Marie Mascenik and Jelmin Caba in this 7-1 Democratic registration advantage Middlesex County city.
Part of the drama involves Mayor Diaz trying to close on an argument she had with Gonzalez when he was on the city council regarding Perth Amboy's finances. "He told me to let the city go bankrupt," she told the crowd tonight, with Booker looking on intensely from the wings. "We could not let that happen."
Gonzalez responded to the criticism.
"This repeated critique is part of the Mayor Diaz Team strategy because they have no real platform or vision, so they continue to repeat this talking point," the candidate said. "They have released three attack ads against us; we have not put out one single attack ad. This is a fact.
"Let me, once again, clarify my bankruptcy statement," Gonzalez added. "I was simply playing power politics. I made the bankruptcy statement as leverage in hopes of negotiating existing burdensome contracts. [I.e. Water Department Contract].While the Mayor Diaz Team continues to attack us for some fairly innocuous statements made by me several years ago, the fact remains she has done nothing to mitigate and alleviate the onerous burden of high property taxes."
Like Diaz, Vitale wants this one.
He poured $24,600 into the effort, intimate involvement that has turned him into a target in this majority Latino city, where one attack piece associated with the Gonzalez ticket refers to the Italian-American as a "boss."
Faced with an onslaught of criticism about his footprint in this LD19 municipality, Vitale insists it's no more complicated than the fact that he and Diaz want to build a new high school in Perth Amboy.
"It's been overdue for 20 years, and now the State of New Jersey is going to pay for one – $190 million," said Vitale. "It will benefit Building Trades Labor and it will be a state of the art facility for kids who are now in trailers and satellite schools. Everyone in Perth Amboy knows they've needed a new high school for 20 years."
Among those circulating in a show of support tonight was Billy Delgado, an unsuccessful 2012 challenger to Diaz.
In an anticipated low turnout election year where the council and school board tickets are bracketed on the ballot separate from the federal and county races, the Diaz-Vitale ticket has done the mail, the coffee klatches, the pig roast, the door-to-door, and tonight, the final exclamatory Booker rally.
But the Route 35 Bridge south of the city connecting Perth Amboy to Monmouth County – the scene of local suicides – has given the establishment ticket another challenge. The mayor is expected before the election to announce funding to build a better barrier on the bridge.