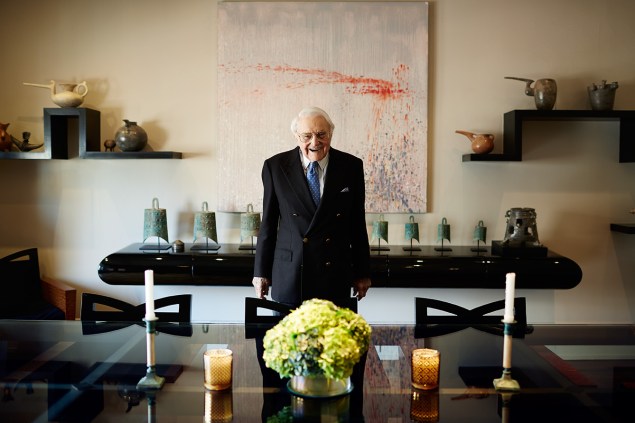 Lewis B. Cullman once owned Orkin, the pest control chain; he apparently learned some lessons during his tenure there, because he now wants to fumigate the philanthropic industrial complex.
In his book, Can't Take It With You: The Art of Making and Giving Money, Mr. Cullman, 95, wrote that foundations should be required to spend all their assets within 50 years after their creation: "So much of the vast wealth of America is tied up in sterile private foundations that exist primarily for their own self-perpetuation," he writes.
More recently, he has become one of the most vociferous critics of donors who park funds designated for charity in Donor Advised Funds (DAF)—"philanthropic gamesmanship" in Mr. Cullman's opinion. He recently outlined his opposition to such charitable giving vehicles, which have been used by the likes of Mark Zuckerberg, in the New York Review of Books. "Donors get the same tax benefits when they give to a DAF that they would get by contributing to a museum" or soup kitchen, he wrote. "If the donor never gets around to making distributions, they stay in the account earning substantial fees for investment managers."
Mr. Cullman, a major benefactor of MoMa, NYP/Weill Cornell Medical Center and Human Rights Watch, to name just a few organizations, met with the Observer the other morning in the library of his Park Avenue apartment, which is overflowing with art, antiques and photographs of himself with Presidents Obama and Clinton. In the following edited and condensed conversation, he elaborated on his inspiration for giving to charity and his hopes for reforming philanthropic practices.
How should people think about giving away their money? My mother told me, 'Give your money away when you're alive, so you get some joy out of it.' I told that to Warren Buffett once, but he doesn't seem to agree.
Has giving away money become too complicated? There are people who give money away solely for the tax benefit. And if you're doing that, you want to do it in a way that entails as little fuss for you as possible. And there's no question that the way the donor-advised funds are structured is simple. You just turn it over. It's all done. No more reporting.
How would you suggest addressing such funds? The idea that philanthropy has become corporatized and that there are these money managers who have—at least for a segment of the population—lost some of the genuine passion and commitment that you would typically associate with philanthropy, and which you generally see at lower individual levels of charity, is, well, just bad news.
If you assume you have to have these intermediaries, which is either a foundation or a DAF, there should be some mechanism—either through a carrot or a stick—that requires the intermediary to give that money out to charity within a specified time. It's already been recommended at five years. That got shot down.
Suggest some reforms? We're living under the rules established as part of a 1969 law. We're in 2014. That's quite a number of years. I don't think there's any law that can survive that long without changing. Congress has not revisited this in a thorough way.
I hate to use the term, 'government committee' or something like that to examine philanthropy and whether the present structures of the tax laws are done correctly. I think that would be a very good first step.
Why isn't there more public outcry? What percentage of the people in the United States really care about charity? We all know that the bulk of the charity goes into church plates because that's very small amounts but huge numbers. Do you think the guy that puts that money in the plate knows where it goes?
When there's a catastrophe—whether it be Haiti or whatever—the average person is probably going to be motivated to do something without any regard of the mechanics. There are so many examples of fundraising where a large percentage of the funds go to the fund-raisers and not much goes to the charities. Who knows about that?
Do you have a long-term plan for your philanthropy? I've got a lot of unfulfilled stuff that I'd like to do. I've got a whole program at the New York Botanical Garden, which came out of nowhere. I'm also very concerned about the New York Public Library for the Performing Arts. It's tucked away in a peculiar place. It doesn't get attention, and it's the only free place in Lincoln Center. We're working on that now with James Polshek, the architect, to have better signage there.
Is there a particular organization that best reflects your philosophy on giving?
Chess in the Schools. Don't be fooled—it is not a chess program, in fact I have always wondered if we got the name wrong. The program is using chess as a tool to give kids an opportunity. Every game is a chance to correct a mistake you made the last time and to learn something new and experience something different. There's always something right on the horizon.
All my life I've loved the challenge of making something work. The challenge here was to see whether you could make chess into an educational tool. And we did. I think every child should be given a chance to use his or her mind to see the possibilities. Remember, there are more moves on a chessboard than there are stars in the sky.
Ultimately, what motivates you? When somebody tells me it can't be done that's when I get excited because I know damn well there must be a way. I always say: retirement is vastly overrated. You've got to have a good reason to get out of bed in the morning. This is my reason.