As flash points in Syria and Iraq start to intensify, so do the casualties. The murder of American journalists James Foley and Steven Sotloff has brought the dangers conflict reporters face to  television screens. "A Form of Love" is an group exhibition of contemporary conflict photojournalism seeking to raise awareness and funds to benefit the Tim Hetherington Trust and James W. Foley Legacy Fund, both named in honor of slain reporters. The show opened earlier this week at 205 Avenue A in New York.
Sebastiano Tomada Piccolomini is one of the curators and a featured conflict photographer in the show. Hailing from Florence, Italy, he spends his time working between New York and Beirut for publications like Vanity Fair, The Sunday Times, GQ, The New Republic. (He is represented by Reportage by Getty Images.)
When did you start working in conflict zones and what is it that keeps you going back?
My first experience in a war zone was in Afghanistan in 2009 while embedded with US Army forces in the province of Kandahar, one of the birthplaces of the Taliban. It was one of my first major assignments in a kinetic environment. I kept returning every year until 2013. The war in Afghanistan became very close to me after experiencing in first person the death of two soldiers of the 101st Airborne with whom I had become friends with in the summer of 2010.
You have worked intensely in Syria, what does the scene on the ground look like now? How has it changed since you first started working there?
---

The job of a photojournalist in a conflict zone is quite a peculiar one. Everyone has their own "trick" or "technique" to get the access to what they want.

---
I have been covering the war in Syria since its early stages. From early 2012 until my recent trip this year in Aleppo, the situation has drastically changed. Front lines are constantly shifting, the Free Syrian Army(FSA) has drastically lost respect in front of the international community. The city of Aleppo has become a ghost town while the fight is waged in the skies where the Syrian Government is engaged in a relentless bombing campaign. I have been covering conflict zones for the past five years and the Syrian war has been by far the hardest one I have covered. I dont have an attitude towards wars as I try to be as objective as possible. Both sides of this conflict have done their fair amount of wrong things. My only attitude is towards the civilians who are being caught in the middle of a war that has no end in sight.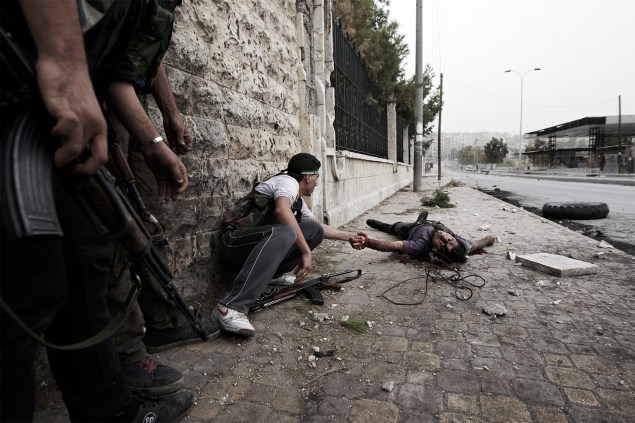 Some of your projects get extremely close to fighters in the conflict, how do you manage to get so close and gain the their trust? What is your relationship with them as a photojournalist?
The job of a photojournalist in a conflict zone is quite a peculiar one. Everyone has their own "trick" or "technique" to get the access to what they want. In my case what seems to have always worked is humor and respect. It is of extreme importance to gain the trust and respect of those around you especially in a war zone, because in a moment of need or emergency you will only be able to depend on the people around you. I was lucky enough to make good friends in Syria that through out the years have given me protection, access to stories but most of all their hospitality.
Was the murder of James Foley and other journalists working in the region a watershed moment for you? Has it changed the way you work?
I knew James [Foley]. We met in Afghanistan in 2010 and ran in to each other in Libya, Egypt and Syria until I last saw him a week before he was abducted. Has it made me more aware of the perils we face as journalist? Yes! Has it stopped me from doing my work? No.
Tell us a little about the story behind the civilian who was hit by a sniper in your photo. How did you come across that scene? Did you know any of those people?
A civilian,the man on the ground, was crossing a road from the regime controlled area of Aleppo to a liberated area in control of the Free Syrian Army. The civilian, who was not carrying a weapon and was not a threat to either side, was shot in the neck by a Syrian Army Sniper. The Free Syrian Army soldiers on the left of the picture ran to the wounded civilian and tried to drag him to safety, but the civilian was shot one more time while he was on the ground. It was a very delicate situation as it was very difficult to retrieve the body to safety as the body was exposed and there was no walls blocking the FSA from being shot by the sniper. The body was later carried away and I do not know if the man survived.
ISIS has proven to be highly skilled at molding its public image while at the same time making it incredibly dangerous for journalists to work and report on them. What does this mean for journalists reporting on the conflict, why is it important to cover this story even though it's so dangerous?
Dying for a story is never worth it, ISIS has caused a tremendous fear in the psyche of journalists covering Iraq and Syria, and for once I think that taking a step back is best for everyone. Giving continuous attention and press to ISIS is simply empowering them.