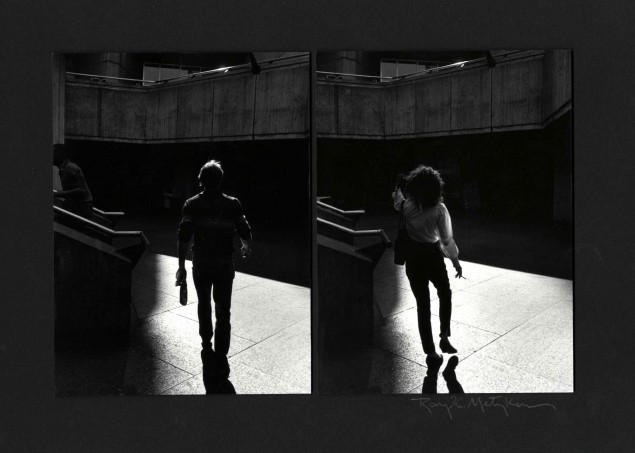 Today, Laurence Miller Gallery announced the passing of Ray K. Metzker, a major figure in American contemporary photography who repeatedly found new ways to explore the medium over the course of six decades. A survey of his most recent photography is currently on view in "One and Only," a highlight of the Observer's roundup of Midtown gallery exhibitions to see this month. The show also features the artist's cut and folded paper works along with selections of his earlier, significant darkroom experimentations.
Metzker died yesterday morning at age 83, after battling a long illness. He was best known for employing unconventional processes in his work such as composite, multiple-exposure, superimpositions of negative, and solarization. He was given his first solo show at MoMA in 1967, and major retrospectives by the International Center of Photography in 1978, as well as the Museum of Fine Arts, Houston in 1984. That show eventually traveled on to SFMoMA, the Art Institute of Chicago, the Philadelphia Museum of Art, and the National Museum of American Art in Washington, D.C., among other major American institutions.
"When I was a student studying photography in the early '70s, Ray's work stood out for me and was one of the biggest influences on me," longtime dealer Laurence Miller told the Observer by phone.
"Every five to ten years he would shift gears," he said of the artist's dynamic and ever-evolving work. "I've probably done about 30 shows in 30 years for Ray, and I always tried to make it a learning experience, and project a broader perception of his current range."
Most recently, the retrospective "The Photographs of Ray K. Metzker" was exhibited at the Nelson-Atkins Museum of Art in Kansas City in 2011, as well as at the Getty Museum in Los Angeles in 2012 and the Henry Art Gallery in Seattle in 2013.
"Ray was an extremely gentle and caring human being who possessed very little ego," said Mr. Miller, speaking about his personal relationship with Metzker and the human qualities that were reflected in his work.
"He really cared about the average person. His subjects were just ordinary people like you and me. There was no fashion, no models, and it was just about the everyday world. I think that reveals a lot about him. He had a great sense of humor, but he still took things very seriously."