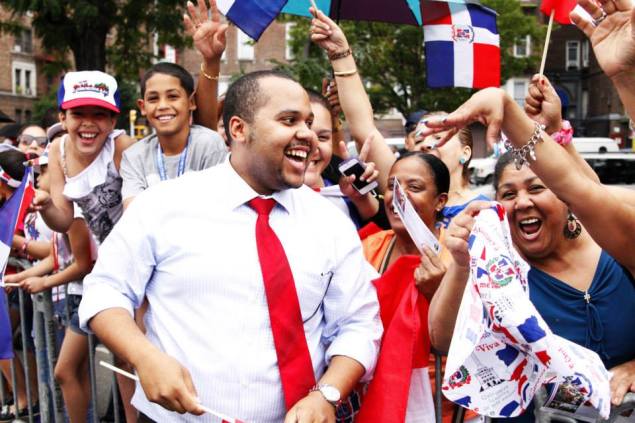 The New York City Board of Elections yesterday certified that Bronx Assemblyman Victor Pichardo eked out a two-vote victory over challenger Hector Ramirez in the recount of the results of last month's Democratic primary.
The agency verified the Observer's exclusive story that the recount put Mr. Pichardo at 1,888 votes to Mr. Ramirez's 1,886. Mr. Ramirez had led Mr. Pichardo 1,764 to 1,753 votes on September 9, but because the gap between the candidates was less than half of one percent of all ballots cast, it triggered an automatic manual re-tabulation of the results.
Mr. Pichardo was ebullient in his declaration of his ultra-slim victory, though he left exact numbers out of his statement to the press.
"I am truly humbled to have received the unwavering support of my neighbors–as well as from a great number of elected officials and unions across both the city and the state–during a tough campaign and while we worked to ensure that this was a fair and clean election. I remain committed to working hard to deliver results and to building a better future for the 86th district," Mr. Pichardo said.
Mr. Pichardo, a former aide to United States Senator Charles Schumer, defeated Mr. Ramirez by 82 votes in a seven-way primary last year for indicted ex-Assemblyman Nelson Castro's seat. Mr. Ramirez, however, refused to admit defeat and alleged the Bronx County Democratic Party–which has now backed Mr. Pichardo twice–illegally tampered with polls to give their favored candidate the edge.
Mr. Ramirez's camp tied the results up for months in lawsuits, but was ultimately unsuccessful in proving voter fraud.
This time, the claims of malfeasance came from Mr. Pichardo's side.
"Troubling reports of voter intimidation by [Councilman Fernando] Cabrera & Ramirez's paid supporters in my District today, disrupting several poll locations," Councilman Ritchie Torres, an ally to Mr. Pichardo, posted on Twitter on September 9. "Right to vote is sacred. Voter intimidation is unacceptable."
Mr. Torres declined to expand on his tweets when the Observer asked about them.
Mr. Ramirez could still attempt to legally challenge this year's results, but he did not immediately respond to requests for comment from the Observer.
The Board of Elections found that 23 people voted for more than one candidate in the race, 346 failed to vote for either candidate, 14 people voted for write-in candidates. The agency declared one ballot cast void.