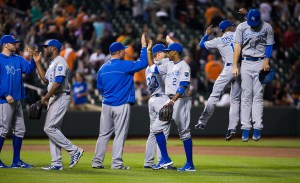 Kansas City Royal fans have waited 29 years to watch their team make another post-season appearance, so when the opportunity presented itself last night, they were determined to see it.
To ensure that they'd be able to fully enjoy the game, the Kansas City Police took to Twitter to kindly ask that the people of their city drive safely and refrain from committing any crimes during the game.
This came off as pretty hilarious, but it seems that — in addition to striking up some social media laughs and getting retweeted more than 22,000 times — it also got through to criminals. Sergeant Darin Snapp of the Kansas City Police Department said that crime was actually down during last night's 12 inning thriller.
"We ran the last four Tuesdays and last night was the slowest night as far as calls to service," he told TMZ.
Maybe their baseball team should win more often.