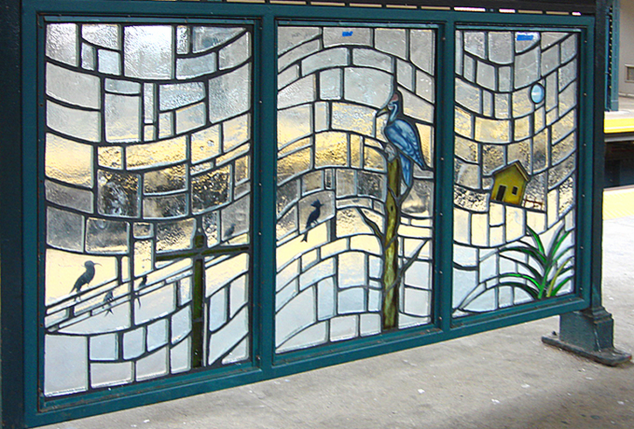 The D line in south Brooklyn has a particularly high concentration of public art, according to a New York Times article published yesterday. But since 1985 the MTA's Arts & Design program has been commissioning visual works in mosaic, glass and other media all over New York City that make interminable waits a little more bearable. Here's a roundup of public art projects in the other boroughs that deserve a glance before the train or bus pulls away.
THE BRONX
Alfredo Ceibal, Permanent Residents and Visitors (2010), Wakefield-241st Street 2 Station
Guatemalan magical realist painter Alfredo Ceibal created glass windscreens (those structures on outdoor subway platforms with the name of the station on top—who knew that's what they were called?) for this Bronx station. The windscreens are covered in paintings of the most common birds in New York City, and they add delicate whimsy to an otherwise harsh concrete platform.
MANHATTAN
Tom Otterness, Life Underground (2000), Eighth Avenue and West 14th Street A/C/E/L Station
Tom Otterness might be most (in)famous for shooting a dog as part of his art film "Shot Dog Film" in 1977 (for what it's worth, he apologized in 2008, saying, "It was an indefensible act that I am deeply sorry for"). His dubious legacy lives on with the 25 small, bronze, cartoon-like sculptures tucked throughout the West 14th Street subway station, installed in 2000. In a 2011 PBS interview, Mr. Otterness said the sculptures were inspired by the mid-19th century Tammany Hall era.
And even though Mr. Otterness's sculptures have been a staple at the Chelsea subway station since 2000, last month Brooklyn-based artist Andrew Tider placed a plaster sculpture of a man shooting a dog on one of the platforms, telling Gothamist, "I always liked the look of Life Underground and when I heard that Otterness had made the Shot Dog video in the '70s it changed how I viewed the piece. I wanted to do something to make it feel positive for me once again."
Shinique Smith, Mother Clara's Garden (2013), Mother Clara Hale Bus Depot, Lenox Avenue between West 146th Street and West 147th Street
Hudson, New York-based artist Shinique Smith converted her painting Mother Clara's Garden into a 100-foot-long mosaic on the side of the recently renovated bus depot in Central Harlem. Ms. Smith also created art glass for the building's north and south windows, using drawings made by first-grade students at nearby P.S. 242. Unveiled last year, the work celebrates Clara Hale, founder of the Harlem non-profit organization Hale House Center. Ms. Smith beat out more than 100 other artists for the job of beautifying the bus depot.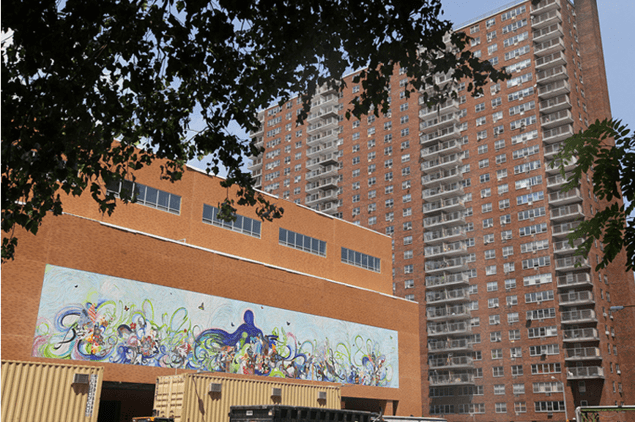 QUEENS
Tom Patti, Passage (2004), Jackson Heights-Roosevelt Avenue/74th Street-Broadway Station
Mr. Patti covered windows in the station's Victor Moore Arcade passageway with a plasma composite that breaks up incoming light into the different colors of the spectrum. It creates abstract rows of color across the station that change depending on time of day, time of year and the viewer's location. He also created abstract geometric pieces for seven windscreens on the nearby platform of the 7 train.