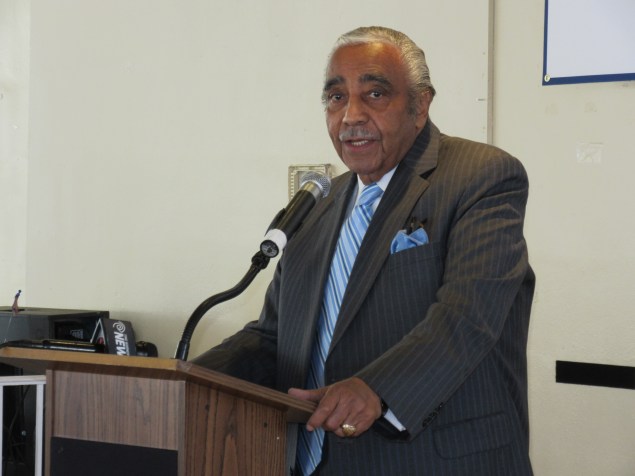 Congressman Charles Rangel today offered a strange assessment of the allegations that prominent civil rights attorney Sanford Rubenstein — who is representing the family of NYPD chokehold victim Eric Garner — raped an executive of Rev. Al Sharpton's National Action Network following Mr. Sharpton's 60th birthday party on October 1.
The Observer questioned Mr. Rangel — who has a historically troubled relationship with Mr. Sharpton — at the launch of an East Harlem jobs center about his stance on the controversy surrounding Rachel Noerdlinger. Ms. Noerdlinger, Chirlane McCray's chief of staff and a former aide to Mr. Sharpton, has been in the spotlight after her ex-con boyfriend made numerous anti-police comments on social media.
After briefly dismissing the scrutiny around Ms. Noerdlinger, the congressman asked the Observer, "You want to get into the rape?"
"No victim, no face, some lawyer, no Sharpton, condoms!" Mr. Rangel said, chuckling, before a political aide ushered him away.
Mr. Rangel's office did not immediately respond to a request to expand upon the remark.
The as-yet unnamed NAN executive, whose allegations were first reported by the Daily News this weekend, reportedly told police that she came out of a drunken stupor to find the 70-year-old Mr. Rubenstein, a former Rockland County legislator, penetrating her with an object inside his apartment. She told police that she found bloody condoms nearby on the floor the following morning, according to the New York Post.
Mr. Rubenstein, who has yet to be charged, is said to be maintaining his innocence, claiming the sexual contact was consensual. Mr. Sharpton has called both Mr. Rubenstein and his accuser "friends."
On the topic of Ms. Noerdlinger, Mr. Rangel told the Observer that he did not see the reason for controversy, noting that the Department of Investigations chose not to penalize her for not mentioning her boyfriend or his criminal record.
"I never saw it in the first place, because it's the mayor's problem to decide who he vets and what the standard is, so no," Mr. Rangel said. "There has been an investigation, she has not been found guilty of any wrongdoing, but one of her associates has said something against the police, and you want my opinion about what?"