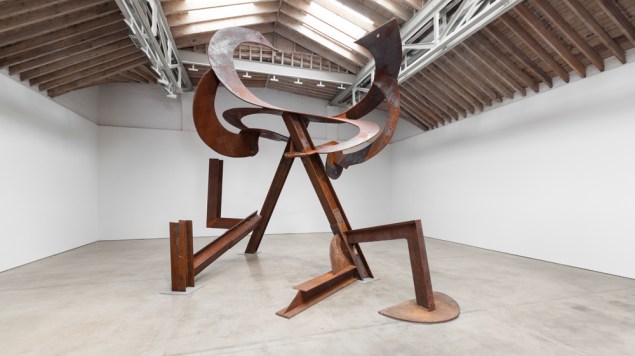 Within a three-block radius in West Chelsea, two larger-than-life steel sculptures, Mark di Suvero's Luney Breakout at Paula Cooper Gallery and Monika Sosnowska's Tower at Hauser & Wirth, are providing an auspicious moment for sculpture-lovers to reflect upon the art's always-mutating timeline. And despite a nearly 40-year age gap and a world of cultural differences between the artists, both share an important quality that makes them game-changers within their respective eras.
Mr. di Suvero, something of a dying breed in art, has been a flag-bearer for American Modernist sculpture since the early '60s. As a young man, he took up welding in order to recuperate from a traumatic construction accident, and since that time he hasn't encountered a piece of metal too large or unwieldy to enlist into his colossal sculptures. He has a public artwork installed in what seems like every country in the civilized world and in every state in our union. Armed with a degree in philosophy from UC Santa Barbara, Mr. di Suvero creates sculptures that explore ancient symbologies while magically defying the earth-bound nature of their common construction materials.
Luney Breakout, on view at the gallery through October 22, is no exception. Mr. di Suvero's 22-foot monument, which begins as a solemn and somewhat menacing base of rusted I-beams, blooms at its apex with a cadre of swirling, gravity-defying steel plates. Here we see the artist continuing his faithful adherence to the Modernist idiom that seeks the miraculous through geometry and material transcendence on a scale that few have matched over the last half-century.
Yet what makes him remarkable as an artist is his devotion to drawing, which is obvious in works like Breakout. Despite the work's absurd weight, its form still retains the energy of the artwork's preliminary sketches. It's jostling linear elements jag, skip and arc through the sun-filled gallery with the immediacy of lines on a page.
This intense focus on—and exceptional talent for—drawing is perhaps why the artist's large-scale paintings in the adjacent gallery seem to fall short. While they share similar themes to Luney Breakout, the paintings lack defined ideas about color and surface, which tends to distract from the artist's aptitude for linear energy and composition.
Masterful draftsmanship in space is also present in Monika Sosnowska's monstrous single-work exhibition entitled Tower, open (and required viewing) through October 25. Snugly fitting into Hauser & Wirth's cavernous 18th Street space, Tower is a gorgeous 21st century reflection on the history of building, both ancient and modern.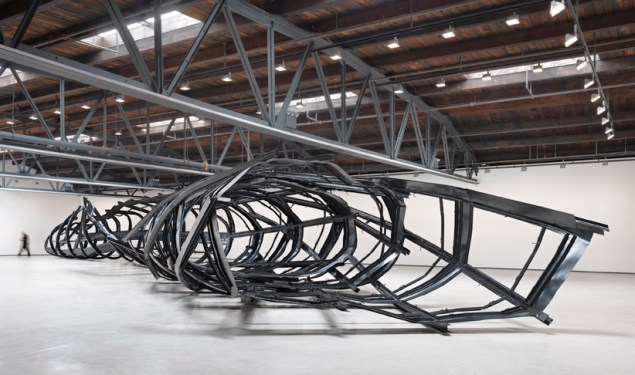 For Tower, Ms. Sosnowska very literally references the steel bones of Ludwig Mies van der Rohe's Lake Shore Drive apartment building, one of the utopian architect's most ambitious International Style glass towers. Yet Ms. Sosnowska's interpretation of/homage to the Mies van der Rohe building takes a glassless and mangled horizontal form, giving this strange behemoth a feel that is equal parts ancient relic and modern marvel.
Ms. Sosnowska was born in Ryki, Poland, and draws on her native country's often contradictory modern aesthetics, from the early artistic influence of Constructivism to the crumbling architecture of Poland's defunct Socialist regime. This long-running obsession with architectural detail is what gives Tower its secretly meticulous composition.
Though it seems to be a victim of either an accidental or premeditated death plunge, Tower—upon closer inspection—looks a little too perfect. The beautiful, undulating black beams torque and twist the entire diagonal length of the space, beginning at its gaping mouth and petering out at its exhausted terminus. It's not a coincidence that the girth of the object resembles the ribs of a whale skeleton, or that its subtle twist brings to mind an animal horn.
In fact, Ms. Sosnowska has composed this mammoth object with more than 50 individually sculpted parts, working with a team of fabricators and engineers to help design a seductively nuanced structure that also echoes the natural world, but with a very different approach than Mr. di Suvero's. Her process of historical inspection is a method that is quite common among a younger generation of artists who view original expression as either an exhausted or a debunked ideal. It is not only an object beautifully drawn in steel; it is also a work of art that references the modern era via pre-existing architecture.
Mr. di Suvero belongs to the tail end of this Modernist era, and he continues an ethos where wholly original objects are built upon the fundamentals of nature. After decades of these Modernist ideals undergoing excessive scrutiny, young artists like Ms. Sosnowska have become increasingly reliant on past movements in art, design, or in her case architecture to inspire.
What reassures about the mysterious future of public sculpture is that the constant of exceptional drawing ability remains the engine that drives the vehicle of innovation for great sculptors. The ability to bring exceptionally pleasing linear compositions into three-dimensional space is no small feat, and it can be a dead giveaway for genius if you look for it.