Now that this season's Fashion Month is over and done, it's clear that a new crop of models has taken over — and they seem much more party-ready than their predecessors.
Kendall Jenner, 18, leads this clique of young and sassy showbiz spawn that includes Gigi Hadid, 19, and her sister Bella Hadid, 17, whose mother, Yolanda Foster, stars on Real Housewives of Beverly Hills; and Hailey Baldwin, 17, the daughter of Stephen Baldwin. Kendall's younger sister Kylie, 17, hasn't made her mark on fashion just yet, but we expect she'll enter the industry in some capacity as she grows up.
http://instagram.com/p/tvOQlLlDPB/?modal=true
Ms. Jenner walked in 13 shows in New York, Milan and Paris, while Ms. Hadid made her presence known as well, most memorably when she led Chanel's women's liberation march with a sign that read, "Boys Should Get Pregnant Too." Bella and Hailey, who are still minors, after all, walked less; Bella appeared in the Desigual show and Hailey walked for Topshop Unique and Sonia Rykiel. Still, Hailey's Instagram feed and various paparazzi shots are any indication, she didn't miss out on any of the Fashion Month fun after hours.
Meanwhile, the girls' slightly more established counterparts, Karlie Kloss, Coco Rocha and Cara Delevingne, are winding down the runway appearances while they take their places on a higher tier as fashion-world stalwarts. They've got their side projects and their endorsement deals with the likes of Burberry and Cover Girl squared away. Some, like Ms. Delevingne and Ms. Rocha, are now sitting front-row rather than walking the runway. In short, they've paid their dues and are no longer fashion's newest faces.
The newer teenage models, though, are armed with cheeky personalities and unlikely reality TV pedigrees. And they don't seem to have filters when it comes to interview answers and social media activity, making them all the more exciting.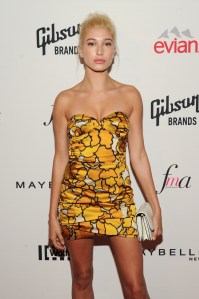 That openness might come not only from millennials' tell-all digital tendencies, but also from their paparazzi-friendly shared roots in TV. Ms. Jenner, 18, and Ms. Hadid, 19, starred on reality TV shows in their early teen years thanks to their families: Ms. Jenner has been on Keeping Up With the Kardashians since she was 11, while Ms. Hadid's burgeoning career has been a storyline on Real Housewives of Beverly Hills. And Ms. Baldwin, of course, is a Baldwin.
Also, weirdly, Ms. Hadid and Ms. Jenner are slightly related, in a way that only reality stars could be. Ms. Hadid's stepfather, Canadian producer David Foster, was once married to Linda Thompson. Ms. Thompson is the former wife of Ms. Jenner's father Bruce — and the mother of Ms. Jenner's two older half-brothers, Brody and Brandon Jenner. So this makes Gigi and Kendall… step-sisters once removed? Who knows? Southern California is confusing.
But maybe there's something to be said for plucking models from the entertaining cacophony of reality TV. These girls have an innate spunk and a talent for sharing just enough to create intrigue. For evidence, see their irreverent Instagram feeds. Ms. Baldwin traipses around the Louvre in high-top sneakers and a midriff-baring hoodie with the caption, "move it or louvre it." Ms. Jenner posts a cheeky photo of herself in bed wearing tighty-whities and a crop top: "city slumber party #mycalvins." And Ms. Hadid is rumored to be dating Joe Jonas, with whom she was spotted at the Galore party during New York Fashion Week.
Speaking of Galore, that magazine's founders, Prince Chenoa and Jacob Dekat, totally called the current move to fun, bombshell-type models. They've already featured Ms. Hadid and Ms. Baldwin, who, with Ms. Jenner, are refreshingly curvy compared to the sinewy models of the past few years, in their pages. Their magazine and new modeling agency, Kitten, celebrate two things: charisma and curves. Their most recent cover star was Robyn Lawley, an outspoken Australian model who blurs the line between plus-size and "straight size" modeling.
"We love women who are confident in their bodies and in who they are in general, and we want to put forward a body type that is attainable and healthy for anyone," they told us via email. "We want curves to be the norm, not a fad."
They believe the current craze has been led by social media, which enables models to be "received as themselves and for their personality and not just for the way they look… The very nature of what it means to be a model is changing very fast."
They're glad to see the size zero end its decade-plus reign of terror — and they don't buy fashion's age-old excuse that thinner bodies look better in clothes. Ready-to-wear collections come in different sizes, they point out, and "it's up to the fashion industry to go beyond that size zero and use real women. I mean, Versace did it in the '90s and so did Azzedine Alaia, so why can't we do it now?"
It was refreshing to see Ms. Jenner walk down the runway during New York Fashion Week; she actually has hips, which have been largely absent from runways for years now. But make no mistake, this isn't exactly a revolution — she and her clique are curvy in the way Cindy Crawford, Christy Turlington and Naomi Campbell were. It's just a return to celebrating a body type just as unattainable as the rock-solid sinew of Karlie Kloss.
Ms. Hadid is also bringing curves back. Harper's Bazaar has called her the next Kate Upton. The difference between her and Ms. Upton, though, is that the latter could never make runway modeling work. Curvy models are normally relegated to print, save the Victoria's Secret annual show. This isn't so for Ms. Hadid, who walked for Marc Jacobs, Jeremy Scott, Jean-Paul Gaultier and more over the past month.
For all their charms, the new clique wouldn't be here without the template laid by Ms. Kloss, Ms. Rocha and Ms. Delevingne. Those three ushered in a new era of models being taken seriously again in their own right, as public figures with something to say. They built up their own cult followings using Twitter and Instagram — although you'd never see photographic evidence of them partying in the early days. They were all business (with the exception of Ms. Delevingne, who's always been a wild card).
Now, this old guard ("old" is a relative word; these ladies are still in their 20s) is moving on to new phases in their careers. Ms. Delevingne, for instance, is smartly channelling her insane levels of chutzpah into acting; she skipped New York Fashion Week almost entirely, in favor of promoting a movie at the Toronto Film Festival. She sat front-row at Burberry with Kate Moss instead of walking the runway herself, putting her in the same league as the iconic, established Ms. Moss while also signaling she no longer has to walk a dozen runways per Fashion Month. This was smart of her; she'd reached almost over-saturated levels of ubiquity over the past few seasons.
Ms. Kloss is taking classes at Harvard, and Ms. Rocha recently announced her first pregnancy. She dabbles in reality TV herself, while also constantly promoting her personal brand on Instagram, Twitter, Vine… you name it. This isn't the last we'll hear of them.
Meanwhile, the new girls partied their way through Fashion Month, carousing all night while looking like a million bucks the next morning, as only 18-year-olds can. And lucky for us, Ms. Hadid, Ms. Baldwin and Ms. Jenner are all too happy to share the evidence on Instagram.
Yes, we finally might have found our sassy second coming of the early '90s supermodels. Think about it — you could never imagine the preternaturally professional and polite Ms. Kloss or Ms. Rocha uttering, "We don't wake up for less than $10,000 a day," as Ms. Evangelista once did. But the reality girls are a different story. If their popularity any indication, fashion is preparing for a more populist, indulgent turn with party girls aplenty. It's about time.