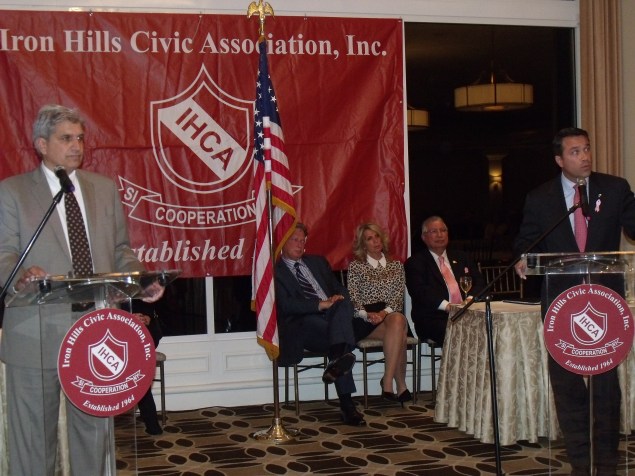 In a much tamer match-up between Congressman Michael Grimm and challenger Domenic Recchia Jr., Mr. Recchia acknowledged a recent string of gaffes that has provided fodder for his opponent, headlines and even late-night television.
"I had one little flare, you know, incident, but one thing, I'm not the best public speaker. I never was," Mr. Recchia, a Democratic former councilman, said. "But you know what I am? I'm someone who works hard. I'm not a slick speaker like my opponent, but I'm someone who is gonna go out and make things happen."
Mr. Recchia's comments at the Iron Hills Civic Association debate, held in the tony Richmond County Country Club, came as both he and Mr. Grimm, a Republican, were asked by a moderator from the Staten Island Advance to respond to common lines of attack — that Mr. Recchia was ill-informed, and that Mr. Grimm is unfit for office due to a 20-count indictment and threatening a NY1 reporter on camera.
Mr. Grimm urged voters to remember the Constitution affords him the right to be innocent until proven guilty and said, once again, that he should not have threatened to throw reporter Michael Scotto off a balcony. But he promised to keep fighting.
"My passion, my fight, my instinct to get things done has been very successful –especially for Staten Island," Mr. Grimm said to a crowd that repeatedly applauded him, despite being asked not to clap.
The debate, which featured a cocktail hour and coffee and cookies, was markedly different than a televised clash on ABC that saw the candidates shouting over one another, particularly around Mr. Grimm's legal woes. While Mr. Recchia repeatedly brought it up on ABC, tonight he never once mentioned the indictment against Mr. Grimm.
"I think it's obvious I think that his camp coached him and sat him down and said you just can't get that excited, it doesn't look good," Mr. Grimm told the Observer. "You're running for the office of Congress and he talks about me having outbursts? That was just reprehensible. I think he's been spoken to by the party."
But Mr. Recchia said there was no new strategy.
"No, we just answered the questions that were presented. It was just a good discussion, you know, what's going on, his position, my position and how we differ," Mr. Recchia told the Observer.
Instead, the two sparred largely over issues — especially surrounding the economy and the Affordable Care Act, a favorite topic of the audience during the portion of the debate when they could ask questions.
A man who said he owned a small supermarket chain bemoaned the impact the act would have on his business, before noting — "Mike's a good friend of mine, but that's not important."
Mr. Recchia said he'd look to reform the legislation but not repeal it: "We need to work together to resolve the problems that our small businesses are having. The Affordbale Care Act was never meant to hurt businesses, it was meant to help people have more health coverage, and that's what we're going to do."
Mr. Grimm said that Mr. Recchia would be in a Democratic minority and unable to change the law, and said he would look to get it off the books: "It is crushing our economy. Small business owners across this country are getting slaughtered."
While the debate was less acrimonious, it was not without its bizarre moments. Just as the forum was about to move to closing statements, a man in the crowd interrupted: Jhong Uhk Kim, better known on Staten Island as "Master Kim." In addition to owning a popular karate school and an IHOP, Mr. Kim is also Mr. Grimm's former father-in-law — his daughter Susan Kim-Piazza was married to the congressman for a very short time in 1994 before the union was annulled.
With a microphone in hand, Mr. Kim insisted on one last question. Then he launched into a lengthy, rambling remark.
"I own the IHOP. So if you want to come for pancakes, I give you free of charge," Mr. Kim began, before segueing into discussing his "American dream" to create jobs in a speech few seemed to follow.
A moderator from the Advance urged him to wrap up, unsuccessfully, before retired State Supreme Court Justice John Fusco restored order.
"Master Kim, Master Kim, please do me a favor. Please do me a favor. Sit down. Master Kim, this is not part of the program. You're out of order. Sorry," Mr. Fusco said.
It's not the first time Mr. Kim has caused a fuss at a debate featuring Mr. Grimm.
In 2010, when Mr. Grimm first ran to unseat Congressman Michael McMahon, Mr. Kim and his daughter, who were supporting Mr. McMahon, entered a debate at the last minute and sat in the front row in seats held for them by the McMahon camp. But Mr. Grimm handled the attempted psych-out smoothly — telling reporters his ex-wife was as beautiful as the day they'd met — and the stunt largely backfired on Mr. McMahon.
Mr. Kim did not make it clear tonight which candidate he was supporting, but he wound up on Mr. Grimm's team back in 2012, holding a fundraiser for him.