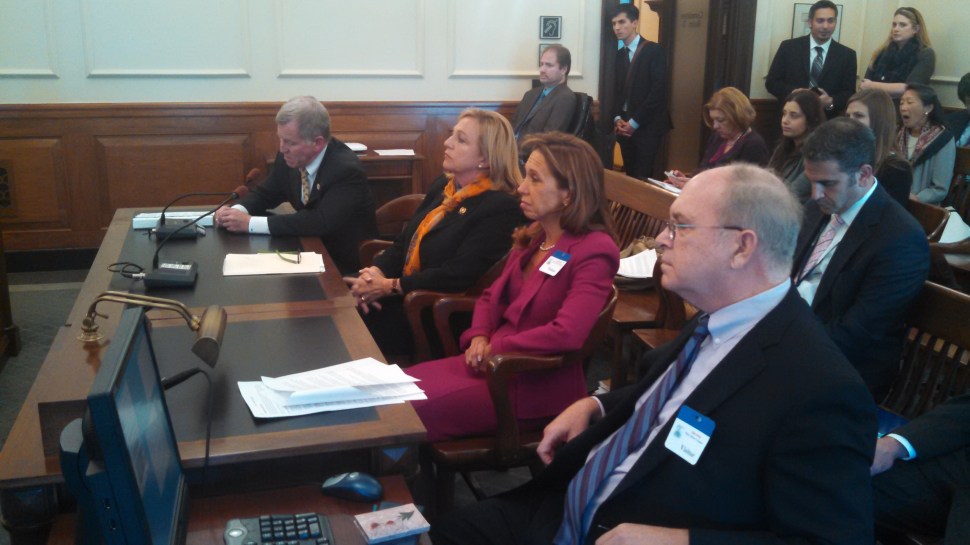 TRENTON – Sponsors from both sides of the Hudson of legislation aimed at reforming an embattled Port Authority defended their work against critics today, arguing that the bills they've proposed are "not incremental or half measures" but represent the first real steps toward increasing transparency at the agency.
Testifying at an Assembly State and Local Government hearing this afternoon, where committee members unanimously released both bills, state Sen. Robert Gordon (D-38) and Assemblywoman Vainieri Huttle (D-37) joined New York State Assembly people James Brennan and Amy Paulin in encouraging the passage of A3417 and A3350, two pieces of legislation meant to open up the  historically-obscure organization to the public in the wake of ongoing controversy surrounding last year's George Washington Bridge lane closings. But they were quick to clarify that this would involve serious changes to the organization — not the kind of cop-out reforms that some have accused them of proposing.
"These are very substantial reforms that are before us here," said Gordon, a primary sponsor of identical versions of the bills that passed the Senate earlier this year. "They are not incremental measures as some have suggested. These proposals will change the way the Port Authority does business, and I believe that had these protections been in place, many of the problems we have seen come to light over the last 12 months or so would not have happened."
The bills, identical versions of which have already been passed by both the Senate in New Jersey and both houses in New York, cover an array of perceived problems at the Port Authority, a mutli-billion dollar agency whose responsibilities include overseeing operations at Newark Liberty, LaGuardia, Kennedy, Stewart, Atlantic City and Teterboro airports, the Port of New York and New Jersey, and the PATH mass transit system. One bill, sponsored by Huttle in the Assembly and Gordon in the Senate, contains provisions intended to enhance both transparency and accountability at the Port Authority, requiring mandatory annual reports by the agency to both states' legislatures and whistleblower protections for employees who report what they believe to be impropriety.
The other bill, a similar version of which was sponsored by Paulin in New York's legislature, would subject the agency freedom of information laws, requiring the agency to turn over any documents deemed public by either of the two states.
"Sadly there is little confidence today in the Port Authority acting on behalf of the public, and the only way to fix that is to reform the agency," said Huttle, who heralded a "new era of reform" at the Port.
But while much of the legislature has gotten behind the legislation, including lawmakers on both sides of the aisle and both sides of the Hudson River, at least one prominent Democrat has criticized the package as hedging to close to the "status quo" to make any real impact. Assemblyman John Wisniewski (D-19), who also co-chairs the Select Committee on Investigations tasked with looking into the motivations behind the lane closings last year, earlier this week proposed his own reform package, which he called a more comprehensive, "top-to-bottom overhaul" of the agency than anything currently on the table.
Among the most significant measure in that package would be the removal of New York and New Jersey's governors' authorities as sole appointers of the organization's ranking officials. Under the new law, according to Wisniewski, each governor would be allowed to appoint three commissioners, down from six, and the New Jersey and New York legislatures would each be allowed to appoint two commissioners.
While Wisniewski's bill would go further than today's legislation, many have criticized it as overzealous and politically unrealistic, opting to first take smaller — but no less important, they argued — steps that would have an easier time passing both governors' desk.
"The criticism that this is insignificance is just inaccurate," said Brennan, who said the bills at hand include "substantial and comprehensive reforms" to the Port Authority. "We believe the standards in this legislation address Bridgegate, toll hikes, cost overruns, conflicts of interest, inappropriate property acquisitions, in a manner that would deter similar problems from arising in the future."
"Those polices officers who were very troubled by what they saw happening that day in September would've felt that they had a mechanism to report that to higher ups," added Gordon. "This bill requires the commissioner to recuse themselves from any kind of decision that could pose a conflict and to sign an oath that they will adhere to their fiduciary duty to advance the mission. I'm not sure that funds would've gotten diverted to the Pulaski Skyway if that had been in place. There are controls over the disposition of property so that sweetheart deals can't be made with another agency where you sell multimillion dollar properties for a dollar."
One member of the committee, however, pointed out that the current version of the bills lack any real enforcement mechanisms, making them laws on paper only. Assemblyman Michael Patrick Carroll (R-25) argued the legislation does little to fundamentally change the structure of the Port Authority, which is the source of many of its current problems.
"The simple fact of the matter is this place has been a pit for years," Carroll said. "And if Bridgegate brought that to the fore, and gave us a chance to look at it, then god bless them for tying up traffic, because it gives us an opportunity to really go after this entity and make sure it stops spending money on museums, it stops buying property in Bayonne for whatever reason without telling us why. It would be nice — and again these bills are nice, I don't mean to be insulting in that way — but they're really just process bills. What we really need is somebody out there who focuses like a laser beam on transportation.
Gordon, for his part, acknowledged the need for structural changes at the agency, but maintained that this is the beginning of the process.
"In the way that commissioners are selected, there need to be changes to the tribalism between New York and New Jersey and the dual alliance of authority that creates a dysfunctional organization," Gordon said. "There needs to be legislation that says this is your mission, you're not going to build airports in Atlantic County, you're focused on 25 miles from the Statue of Liberty. There needs to be legislation that takes a good look at the purchasing process, and a number of other areas. This is the first step. This is the low-hanging fruit. Not incremental, not half-measures, but the easiest to do."
The Assembly State and Local Government Committee's passage of the bills is one of the last hurdles the legislation faces — it still needs to pass the General Assembly — before arriving on Gov. Chris Christie's desk. Brennan and Paulin said they are "confident" their own versions of the bills will be signed by New York Gov. Andrew Cuomo in the coming weeks.