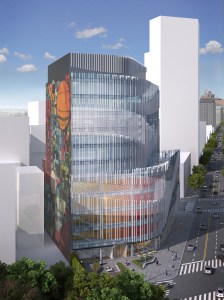 This afternoon, architects revealed the first renderings for a new health center and mixed-used building at 620 Fulton Street in Brooklyn, being constructed at the behest of the New York Hotel Trades Council  and Hotel Association of New York City, Inc. Health Benefits Fund, Health Center, Inc., otherwise known—in perhaps the most merciful abbreviation ever—as HCI.
Due to break ground next spring and open in the Fall of 2016, the structure should give HCI—the largest direct provider in the city of health benefits to union membership, retirees and dependents—a solid Brooklyn foothold, located as it is a block away from the Brooklyn Academy of Music in Fort Greene. Currently, the organization has a pair of facilities in Manhattan and another in Queens.
Designed by the architectural firm Francis Cauffman, the 180,000 square-foot building will feature a teardrop shape and a textured glass facade; it will contain a health center, a restaurant, public amenities, and office and retail space, according to a release. Taking up five floors and 65,000 square-feet of the building, the health center will represent perhaps the greatest boon to the HCI network, which reportedly served more than 50,000 unique users and provided 700,000 annual exams last year.
"We had two major goals for this building," Dr. Robert Greenspan, executive director of HCI, said in the release. "First, we wanted to create a strong image for HCI in Brooklyn that supports our mission and welcomes our members. Second, we insisted on vigorously patient-centered environment that provides high quality healthcare characterized by exceptional customer service. above all, we want our members to enjoy an unmatched healthcare experience."
Aiming to treat 85 percent of patients in less than an hour, the site will have have no physician's offices or waiting rooms. Doctors, a representative of Francis Cauffman told the Observer, will move between examination rooms, rather than maintaining distinct offices between which patients must travel for treatment, as is the case in some health centers. "If you think about it, a lot of times, you can wait an hour at a health center before even seeing a doctor," the rep said.
A major tenant is reportedly scheduled to lease 40,000 of the building's remaining 70,000 square feet of office space.