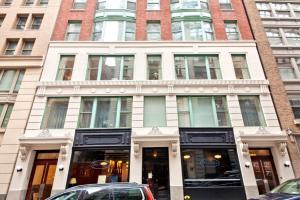 Cyclists have lately come under fire on our fair isle. And personally, we have been listening to complaints about them—and contributing occasional cattiness ourselves—for some time now. But Mark Pattinson, the bike-riding Connecticut-based Brit who holds his country's record for the Race Across America, having twice finished second, might well have been motivated by factors beyond popular opinion in selling his floor-through loft at 31 West 21st Street, which he's just done for $7.8 million, according to city records.
After all, his place in Westport—a six-bedroom mini estate with a 26-foot stone fireplace on an acre of land—which was last priced for about $4.5 million, would seem to provide a better home base for long-distance training, positioned as it is amid a scenic, semi-rural idyll. (Particularly with the police ramping up bike speed enforcement in Central Park.)
The listing, which was held by Alex Ionescu and Lydia Sussek of Corcoran, suggests that a buyer might want to bring his architect. Mr. Pattinson's old condo, however, does not necessarily appear to require much adjusting. It proved alluring enough, anyway, to attract founder and CEO of the Persado company Alex Vratskides. (Persado's somewhat creepy corporate aim is to uncover "the language and emotions that make people buy," which they seem to do effectively for brands like American Express, McAfee and Verizon; Mr. Vratskides also founded and previously served as CEO for Upstream, a self-described "mobile monetization powerhouse.")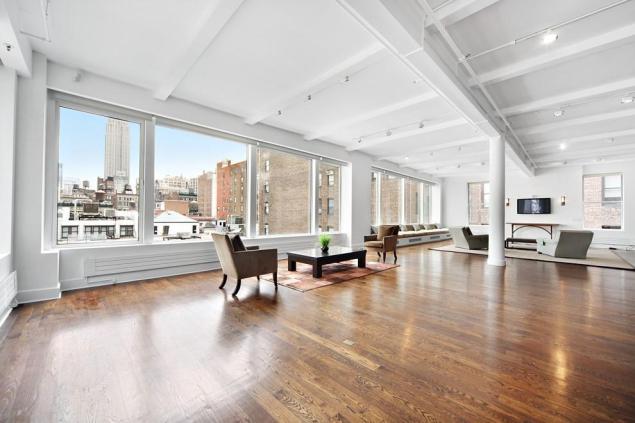 An industrial-luxe spread of nearly 5,000 square feet, the apartment occupies the ninth floor of a handsome, 52-foot-wide building in the Flatiron Historic District, affording 360-degree urban vistas punctuated by a dead-on take of the Empire State Building. It is a sleek, spare space, with 11.5-foot ceilings, 29 (!) huge windows and dark shiny hard wood floors. Configured at present as a three-bedroom, the condo has a recently renovated kitchen with all of the usuals and the ample space could accommodate a comfortable live/work environment—popular, of course, with corporate techie types like Mr. Vratskides—or, the listing suggests, additional rooms like a dining room or a library.
Manipulating people's emotions, as it turns out, is a pretty solid racket.