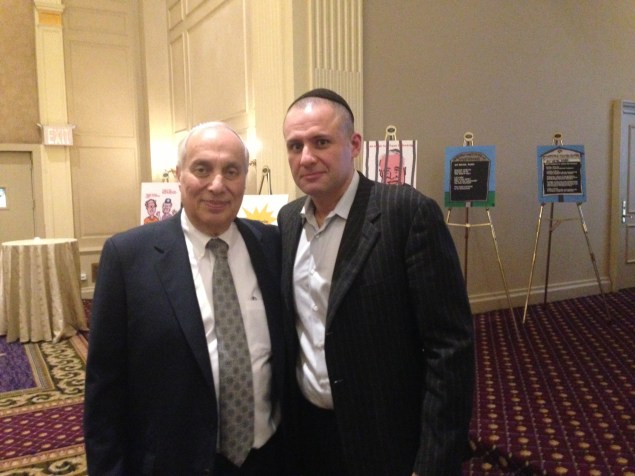 In the last few months, two Bronx greats have announced they are stepping back — Derek Jeter and the influential Rabbi Avi Weiss. While the Yankees shortstop made history and headlines, the spiritual leader of the Hebrew Institute of Riverdale made the world a better place.
Rabbi Avi Weiss is a hero to me, a man who has played a major role in my life. This weekend in synagogue he announced he is changing his role at the synagogue he founded, noting, "it's been a great ride." It takes wisdom and humility in a leader to step back from an institution, one he founded in a basement boiler room, and acknowledge that for the synagogue to continue thriving it cannot be wholly dependent upon himself. Doing this requires a special character and, as he is affectionally referred to, Reb Avi's vision, leadership, and confidence have made him one of the most impactful American Jewish leaders of this generation.
Having known the man nearly my whole life – and today being able to call him a close friend – I know this decision was not easy. Reb Avi built one of the largest Modern Orthodox synagogues in America, founded Yeshivat Maharat, which has graduated two classes of female clerics, founded Yeshiva Chovevi Torah and has traveled the world as a Jewish activist. There's so much he has taught so many of us. Fittingly, one of his followers, Phil Schneider, is premiering an independent film on November 8th called Righteous Rebel: Rabbi Avi Weiss, about the life of one of America's most influential Rabbis.
Of his many invaluable lessons, there are a few particularly worth sharing:
Be in the Moment. As Maya Bernstein has written of learning from Rabbi Weiss, "I remember you standing at the door each Shabbat after services, shaking everyone's hand as they walked out of the sanctuary, giving each person your full attention, even for a moment. That was the advice you gave me when I got married, when I was overwhelmed at the thought of seeing so many friends and family in one intense time and place. You advised that when engaged in conversation with one person to stay fully engaged. To pretend in that moment that nobody else is in the room. And to do so with each person, with each conversation." How many of us – even more so with social media and the distractions of technology fail to do this.
Just Do It. He often recounts how whenever his parents flew to New York, it was his responsibility to meet them at the airport. Once, his father called to say they would be arriving one day early and he explained he loved them, but couldn't change his schedule. "You became a hot shot Rabbi and don't have time for your parents?" asked his father. "I love you deeply," he protested, "but it's difficult to alter plans at the last moment." He says he will never forget his father's response. "Don't love me so much, just pick me up at the airport!" Indeed, in the words of Nike just do it.  In the words of Reb Avi's father, "don't love me so much, just pick me up at the airport." Talk is cheap.
Standing up for women. As the founder of a prominent women's yeshiva, he realizes that leadership & moral authority is not exclusive to men.
His life-long stance to do the right thing. From championing the freedom of Russian Jews, protesting anti-Semitism wherever it may rear its ugly head, or simply recognizing the need to speak up against injustice.
Connect with people. A former Rabbi Weiss assistant wrote that he learned, "Don't sit on the bima – it's not where the Jews are." Indeed, leaders in business and all walks of life would be so much more effective if they connected with their flock.
Leadership requires presence. When I was nine years old I got hit in the face with a baseball in a Little League game and was briefly knocked out. Within a short while of being taken home, Rabbi Weiss was there reassuring me, and more importantly (as it was only a scare that resulted in a black eye), reassuring my single mother. He has always been there for so many of us, no matter what else was going on in the world, no matter where he was or what issue he was in the middle of championing on behalf of our people. He sees each of us as individuals, and he shares his soul with so many people during their times of need. It is amazing how often he drops everything and comes to people of need, but I know that it is who he is and how we should be. His actions taught me from a young age to act, and simply make it happen. Action is a necessary impulse.
For over forty years, both from an international platform as well as from his local pulpit in the Bronx, Rabbi Avi Weiss has made an extraordinary difference in this world. He has inspired others to "show up, stand up, and speak up," and is an honorable man.
Ronn Torossian is an entrepreneur and author. He is also a board member of Yeshivat Maharat, although he writes this strictly in a personal capacity.