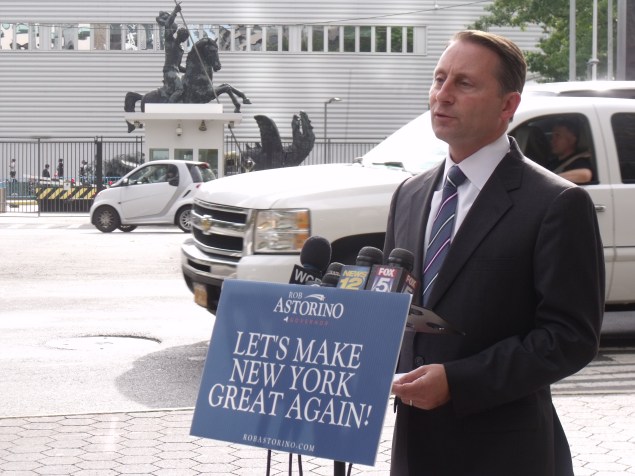 While many elected officials have sought to downplay the actual risk of the deadly Ebola virus spreading in the United States today, Westchester County Executive Rob Astorino today called for the Federal Aviation Administration to ban flights from West African nations to the United States.
"God help us if Ebola comes into New York because we were afraid to offend someone," Mr. Astorino said near the United Nations building.
Mr. Astorino, the Republican candidate for governor, assailed the systems currently in place to stop Ebola's spread from nations like Liberia, Sierra Leone and Guinea — noting that a Liberian man who is hospitalized with Ebola in Dallas simply lied on a paper questionnaire when he left the virus-stricken nation. He also pointed to airlines like British Airways and Air France, which have stopped flying to those nations, while the U.S. has declined to impose restrictions.
"That's madness," he said. "It defies common sense then that we would allow air travel form Ebola-stricken nations until airport screenings are guaranteed to be foolproof. So I therefore call on the FAA today to halt air travel between New York airports [and West Africa] until proper protocols are in place."
But critics of a flight ban say it would hamper aid efforts in West Africa, where the spread of the virus has been spinning out of control and where health and hospital standards make it hard to contain the illness, which is spread through bodily fluids. Mr. Astorino argued that wouldn't be the case.
"We should allow our healthcare workers, epidemiologists, to be over in West Africa and have safe return with the right protocols," he said.
There are virtually no flights that travel directly from the United States to the West African nations most affected by Ebola — the man who brought the virus to Dallas connected in Brussels first. But when travel is booked on a single ticket through a connection, U.S. Customs and Boarder Protection can track that it originated in Liberia, according to the Washington Post, allowing for increased screening, or, as Mr. Astorino favors, a ban.
But asked whether passengers — especially those who had been willing to lie about Ebola exposure — would simply travel to another nation first and then on to the U.S. on a separate ticket to skirt the ban, Mr. Astorino said West African flights heading not just to the U.S., but also to Europe, should be grounded.
"That's where we've got to focus, internationally, our efforts on preventing the outbound flights from going to Europe and going to America, so it becomes a contagion," he told the Observer. "I'm not concerned about political correctness. We shouldn't worry about offending anyone right now, because if we worry about offending someone right now we're going to have very possibly this spreading throughout the United States, and then wondering why it was allowed to happen."
The FAA or the U.S. government would not be able to ground flights from West Africa to nations other than this one, of course. Asked if doing so would leave residents of West Africa feeling trapped, Mr. Astorino again reiterated that he's not worried about offending anyone.
"I'm not concerned about offending or political correctness, I'm concerned about containing a virus that is spreading rapidly and is causing fear and could lead to panic," Mr. Astorino told the Observer.
Gov. Andrew Cuomo, asked about Mr. Astorino's push to ban travel to West Africa, said he didn't think it would work — citing those concerns about skirting the ban by flying elsewhere first.
"I don't think it works mechanically to say, 'shut off entry from any country,' because what happens is you just fly to another country and you then you come in from that country," Mr. Cuomo told reporters today. "So you can't come in from Liberia. OK, so I'll fly to Paris, I'll come in from Paris."
Mr. Astorino joins several Republicans, including Louisiana Gov. Bobby Jindal, in calling for the flight restrictions, which the Centers for Disease Control has insisted would not be helpful.
This story has been update to include comment from Gov. Andrew Cuomo.