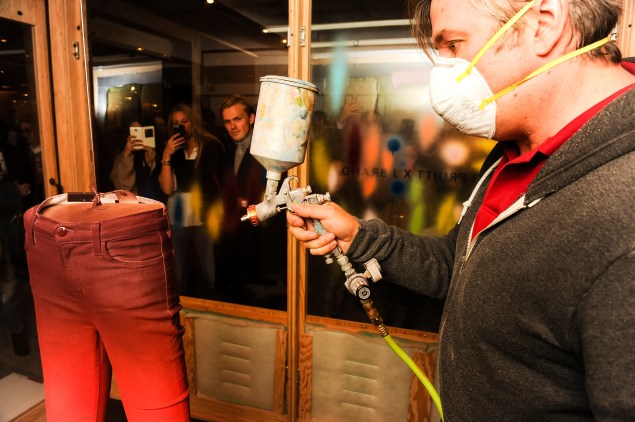 Last month, Rob Pruitt opened "Multiple Personalities," his first solo show in New York in four years. It stuffed Gavin Brown's Enterprise with a bombastic number of ideas—water fountains in pickup trucks, middle school binder doodles, simple frowny face drawings—but the center of the exhibition were his so-called "suicide paintings," dreamy, grainy faded color abstractions that, while they had little to do with the real act of suicide from first glace, perhaps suggested a more solemn, introspective Rob Pruitt.
What's not solemn and introspective is making suicide paintings on jeans at Barney's. You see, Mr. Pruitt is fan of fashion collaborations: first there was the Rob Pruitt x Jimmy Choo line that came out a few years back, and now he's got a line of denim products that he designed for J Brand.
And so there he was last night on the 8th floor of Barney's New York, inside a glass cube, paint sprayer in hand, facing a pair of white jeans rigged up on a wire and dangling before him, ready to make some suicide paintings using white denim as a canvas. For one night only, the artist who once created an installation called "Cocaine Buffett" —which featured a 16-foot-long line of real cocaine that everyone really snorted—would be working in a department store selling pants.
"I leave myself open to being approached to doing these kinds of collaborations," Mr. Pruitt told me. "I love what I do in the studio but sometimes I love to do a project that I know my mom and sister will really like."
They don't like, um, his art?
"They don't live in NYC and they don't follow the art world, except that they know their brother and son are involved," he said. "But this they'll see, this they'll wear, and they'll brag about it to their friends."
Yes, clearly he was out of the confines of the art world, what with dozens of fashion kids yapping excitedly about the colorful products in the fierce glow of the white department store.
"Plus, you know, this era is all about the booty!" he said. "And so why not splash my colors across any number of booties?"
"And if you see someone wearing them out, that's not a bad pickup line," I suggested.
"Good idea!" he said.
And then an assistant handed Mr. Pruitt a scary-looking gas mask, which he donned, and he proceeded to enter the chamber. He grabbed the paint sprayer, began to spray red in various shadings on the once-white jeans, swooping up and down around the suspended pants and then—voilà!—jeans a la Pruitt.
The artist's dealer didn't seem interested in showing up—actually, there was probably very little overlap between the opening at Gavin's and this Barney's shindig. Instead of the art world, you had socialites like Pamela Love and Margherita Missoni (Whitney curator Scott Rothkopf did show up; I guess he's got time to eat mini fish tacos at Barney's with his museum closed and all.)
After getting their jeans done up like a suicide painting, Mr. Pruitt would sign the inseam, making the things veritable Pruitts—albeit ones you hike up every morning. Toward the end of the party, he was mobbed by a crowd of people all clamoring for his autograph on their new pants.
And, inevitably, the spectacle of the artist and his assistants in their gas masks painting the jeans prompted a frenzy of photo snapping and Instagramming, with people then staring at their phones, turning around to take selfies, liking the other pictures of the same event happening in front of them. One has to wonder: if Mr. Pruitt showed "Cocaine Buffett" today, would people do the blow, or just take pictures of it?