Let us not to the marriage of two artsy iconoclasts admit impediment. Particularly if they are avant-garde artist and theater director Robert Wilson and the protean singer-composer Rufus Wainwright, whose music theatre collaboration Shakespeare's Sonnets was part of the Brooklyn Academy of Music's 2014 "Next Wave Festival."
At BAM, Wilson and Wainwright worked with the Bertolt Brecht-founded Berliner Ensemble for the U.S. premiere of "Shakespeare's Sonnets," staged for a total of six performances ending last week.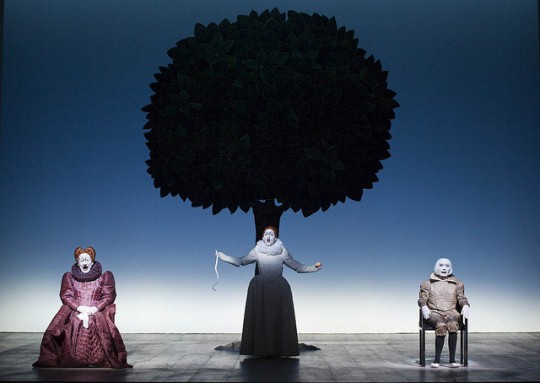 All the familiar vocabulary of Wilson's work was present: stunningly lit, slow-moving stage pictures juxtaposed with sometimes seemingly unrelated text  performed with a balletic and deliberate athleticism. (Performers were asked to ride giant or tiny bicycles, dangle on wires from the ceiling, etc.) And what can be like watching very meaningful paint dry for newbies or riveting for devotees was here presented in clown-white-faced, gender-bending Elizabethan drag with winsome humor.
What it lacked in linear coherence (which is a lot, as much of it was in German), it makes up for in no small part due to the mostly lilting and lovely pastiche songs for strings, keyboards and guitars by Wainwright, best known for his distinctive voice, complex pop songs and modern operas.
Altogether, twenty-five of Shakespeare's 14-line sonnets, chosen in a narrative-confounding arrangement by dramaturg Jutta Ferbers, comprised the text and lyrics performed by a cadre of joyously up-for-anything actors and dancers.
While Wilson has joined forces with many world-class artists in the last twenty-five years, the theatrical elements don't always come together as seamlessly and successfully as with 1990's The Black Rider created with Tom Waits' music and Williams S. Burroughs words. In this case, the musical and mosaic opposites supported one another in surprisingly subtle and evocative ways. Even Wainwright's incidental music wove a hypnotic spell that swirls around Wilson's painstakingly precise and kaleidoscopic images.
The sonnets themselves, essentially deeply melancholy and yearning meditations on the irreconcilability of love and loss, youth and age, beauty and beastliness, are here sometimes sung, sometimes spoken, most in German, some in English. They act as a kind of poetic ballast upon which the dizzyingly dazzle of the performances and scenic elements bounce.
At one point, the saucy and smart German cabaret star Georgette Dee, who joined the Berliner actors for a series of chatty curtain-front comic monologues, wonders about the "emotional evolution" occurring during the four hundred years of theatre since Shakespeare. Well, Georgette, Wilson and Wainwright's creative marriage doesn't so much evolve from the Sonnets as much as pull them like taffy into new forms and meanings.