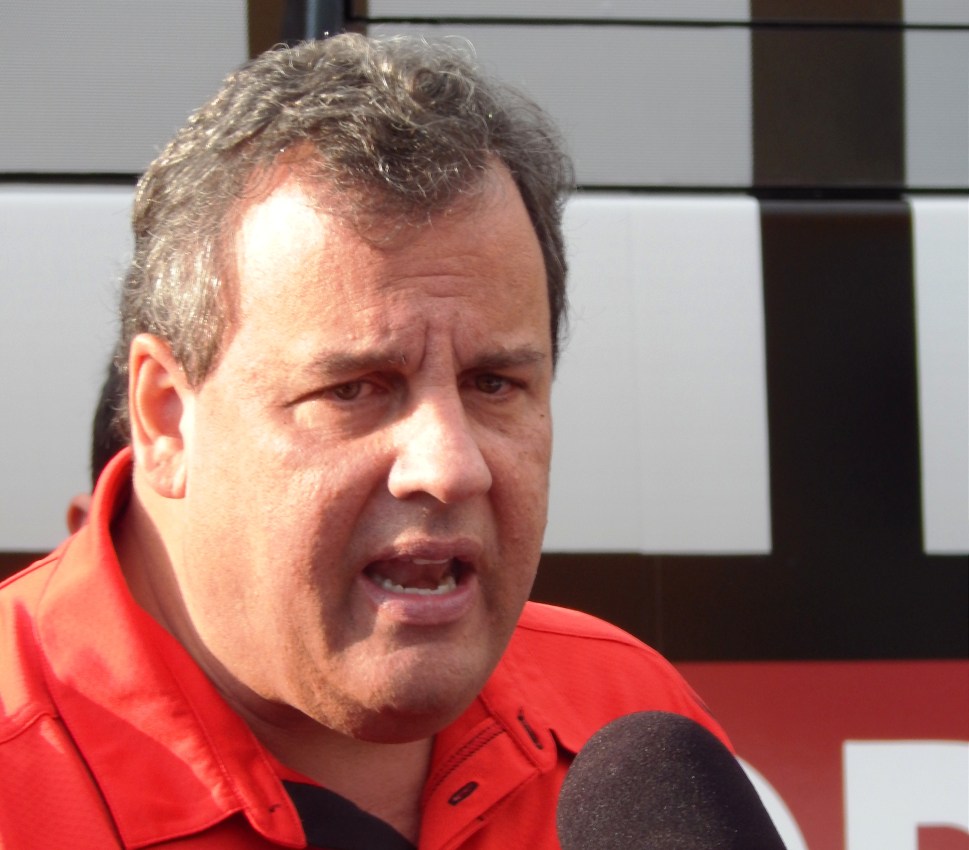 Hopscotching around the country in pursuit of GOP pickups in governor's mansions, Gov. Chris Christie has home state polling trouble, according to a poll released this morning by Rutgers-Eagleton.
For the first time since August 2011, more New Jersey voters have an unfavorable impression of Christie than a favorable one, the poll finds. Following a seven-point decline during the past two months, just 42 percent of registered voters now feel favorable toward the governor, while 45 percent feel unfavorable.
"This is the lowest favorability rating we have ever recorded for Christie, below the 44 percent of August 2011," said David Redlawsk, director of the Eagleton Center for Public Interest Polling and professor of political science at Rutgers University. "What had seemed like a small rebound following Christie's Bridgegate ratings collapse now looks more like a temporary blip."
While remaining slightly positive, Christie's overall job approval rating is also dropping, falling three more points to 49 percent, with 46 percent disapproving, up five points.
Voters say taxes (24 percent), and the economy and jobs (21 percent) are the top two concerns, followed by corruption and abuse of power (16 percent) and education (12 percent). Underlying Christie's decline is a roughly eight-month drop on three of these top issues: taxes (down 10 points to 33 percent approval), the economy (down three points to 38 percent) and education (down 10 points to 39 percent).
In addition, voters remain negative about Christie's handling of the budget (down six points from a January 2014 poll, to 37 percent approval) and the pension crisis (24 percent approval, unchanged since first asked in August 2014.)
Only approval of Christie's performance on Sandy recovery has shown significant improvement, rebounding to 60 percent from 54 percent last February. Approval of his handling of crime and drugs is up an insignificant two points to 52 percent over nearly the same period.
"The last time New Jerseyans were more negative than positive toward Christie the pension reform bill had just been signed, Christie had begun pushing a voter-supported teacher-tenure package and there had been no Superstorm Sandy," noted Redlawsk. "But the good will he piled up after acting on those voter supported issues, and his handling of Sandy, has vanished. By nearly every measure we have, Christie is losing support"
Results are from a statewide poll of 842 New Jersey residents contacted by live callers on both landlines and cell phones from Sept. 29 to Oct. 5. This release reports on a subsample of 734 registered voters with a margin of error of +/- 4.2 percentage points.
Top problems: taxes and the economy
Analysis of voters' two top concerns shed some light on Christie's ratings decline. While Republicans remain about 20 points more positive than negative on the governor's performance on taxes and the economy, Democrats and independents have a different perspective. On taxes, 20 percent of Democrats and 34 percent of independents approve of Christie's performance; 74 percent of Democrats and 56 percent of independents disapprove. On the economy and jobs, 27 percent of Democrats approve and 68 percent disapprove. Thirty-seven percent of independents approve, 53 percent do not.
Among the 24 percent who call taxes the most important problem, Christie does quite well: a 60-29 percent favorability rating, and a 63-33 percent overall job approval rating. Yet these same voters are very negative on Christie's actual performance on taxes: 35 percent approve of his work while 57 percent disapprove.
A similar pattern emerges on the economy. The 21 percent who care the most give a 50 percent to 46 percent overall job approval rating, and split 44 percent favorable to 46 percent unfavorable on impressions of Christie. But like voters focused on taxes, these respondents hit Christie hard on their key issue: 29 percent approve Christie's work on the economy while 65 percent disapprove.
Redlawsk identified GOP voters' strong overall support for Christie as a cause of this odd pattern. "For Republicans, partisan preference overrides specific job performance," he said. "We see a huge 25-point-plus gap between Republicans' overall ratings of Christie and their evaluations on taxes and the economy. They may be much less supportive of the governor's actions on these issues, but this does not interfere with supporting their fellow Republican."
Democrats, and to a lesser extent independents, have become more consistent in connecting their general ratings of the governor with disapproval of his specific performance on issues, Redlawsk added. "The much smaller gap between job approval and assessments on top issues for these voters leads to the very negative ratings we find when we look at all voters who care most about taxes and the economy."
Partisanship and ratings
The share of Democrats with a positive impression of Christie has fallen seven points to 21 percent since last August and 37 percent since a high point in February 2013. Since August, favorability among independents has dropped eight points to 44 percent, and among Republicans five points to 74 percent. At Christie's high point 20 months ago, 71 percent of independents and 88 percent of Republicans, respectively, felt favorably.
"The partisan favorability gap has skyrocketed to 53 points, as Democratic negativity has greatly increased since Bridgegate," said Redlawsk. "But Christie is also losing independents at a growing rate, which threatens to undermine his image as a leader with broad support."
Because some voters who dislike Christie still give him positive job ratings, his general job approval remains more positive than negative. But the partisan gap has also grown to 53 points: 80 percent of Republicans, 27 percent of Democrats and just over half of independent voters approve.
Where support weakens
Christie's favorability and job support ratings among men have each fallen nine points the past two months; approval and disapproval of his overall job performance each stand at 47 percent, while 41 percent of men feel favorable about him. His favorability among women has declined four points to 44 percent, while they still approve of his job performance, 50 percent to 46 percent, virtually unchanged since August. Among urban voters, Christie's job approval now stands at 31 percent, an 11-point tumble since August; 65 percent disapprove. Over the same period, suburban voters' approval of Christie's job performance fell seven points to 44 percent. Half or suburban voters now disapprove of how the governor does his job.
Christie's report card
Since a pre-Bridgegate poll in November 2013, Christie's job performance grades have plunged: only 10 percent award him A, his smallest-ever share of the top grade and an 11-point drop. One-quarter of registered voters grade him B, also among the lowest total ever. C grades now dominate at 28 percent. The percentage of voters assigning D (16 percent) and F (19 percent) grades has climbed since last November, when 8 percent of respondents failed the governor.