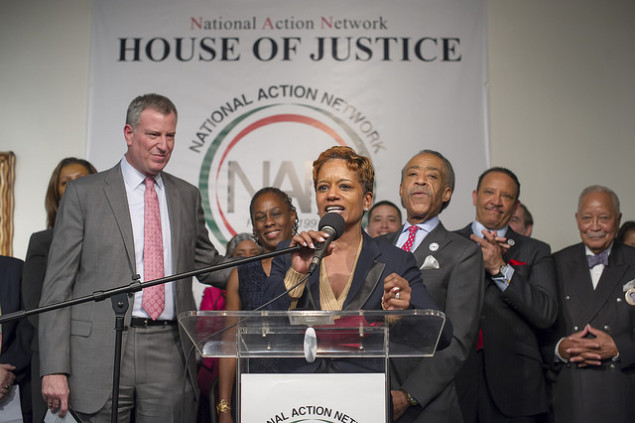 All is quiet on the Stringer front.
Comptroller Scott Stringer, never shy about attacking Mayor Bill de Blasio, only offered kind words when asked about the ongoing controversy surrounding a top City Hall aide living with a convicted felon.
"I said a few days ago, I think Rachel Noerdlinger is a consummate professional, and she has acquitted herself well in the job she has," Mr. Stringer, who is reportedly not always on speaking terms with the mayor, told the Observer today.
Rachel Noerdlinger, the chief of staff to the mayor's wife, has been under fire for several weeks since it was reported that her boyfriend, Hassaun McFarlan, once pleaded guilty to manslaughter and various other crimes. Ms. Noerdlinger herself has faced criticism for associating with an ex-convict and the financial issues dogging her, like a $28,000 tax lien placed on her New Jersey home and even unpaid parking tickets.
When applying for her City Hall gig, Ms. Noerdlinger failed to mention she lived with Mr. McFarlan, who also called cops "pigs" on online message boards. The DOI cleared her of any wrongdoing, though the administration failed to disclose additional information about the ruling.
"I think the Department of Investigation has issued their, you know, their findings and this is for the mayor and his staff to look at. This is an appointee that is in City Hall and I think the mayor has to manage his own staff as I manage mine," Mr. Stringer said. "I have a lot of respect for the Department of Investigation, they are an independent watchdog on these issues, they've issued a report, and it's up to the mayor to evaluate that report as everyone of us has to do."
Mr. de Blasio has stood strongly behind Ms. Noerdlinger, a former top aide to Rev. Al Sharpton, even as her travails threaten to distract from his agenda. His fellow city Democrats, like Mr. Stringer, have not publicly criticized Ms. Noerdlinger.
Will Bredderman contributed reporting.