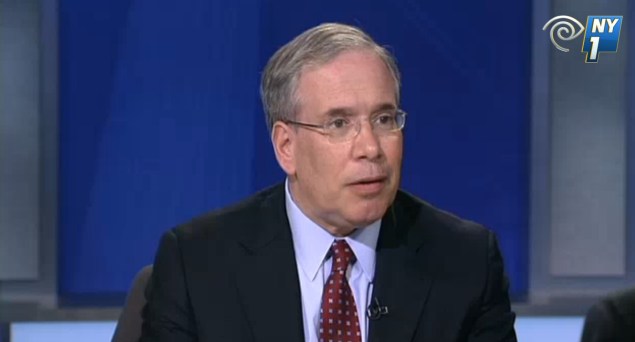 Comptroller Scott Stringer defended his recent verbal sparring with the mayor last night, pointing to the need for a comptroller to always counter a "strong mayoralty."
"Part of this is the job I'm supposed to do," Mr. Stringer said on NY1's Inside City Hall. "That's democracy. You need to be a counterweight to a strong mayoralty but you also have to work with that mayoralty and we've been able to do both."
Mr. Stringer, a Democrat like Mayor Bill de Blasio, has warred with the mayor over the number of prekindergarten contracts sent to his office for approval and whether a recent executive order on a living law stripped Mr. Stringer's oversight function. Mr. Stringer also graded many of Mr. de Blasio's agencies poorly on their ability and effort to contract with minority and women-owned businesses.
The relatively wonky tussles revealed a growing rivalry between Mr. Stringer, a one-time candidate for mayor, and Mr. de Blasio. On NY1, Mr. Stringer happily pointed to a tweet from Brooklyn Councilman David Greenfield that celebrated the back-and-forth.
"Putting aside merits of each individual argument, it's actually good for democracy that @scottmstringer & @billdeblasio engage in back/forth," Mr. Greenfield tweeted on October 1.
The mayor and comptroller view each other with increasing wariness, as did their predecessors Michael Bloomberg and John Liu. But while the fights between Mr. Bloomberg, a Republican-turned-independent, and Mr. Liu, a liberal Democrat, were steeped in ideology, the Stringer-de Blasio battles are based in more technical concerns that frustrate each side.
After Mr. de Blasio issued an executive order strengthening the city's living wage law, Mr. Stringer–a proud supporter of the pro-labor law–railed that Mr. de Blasio stripped his office of its oversight authority when it comes to the higher wage and new workers covered in the order, handing that power over to the mayor's Department of Consumer Affairs. Mr. Stringer also criticized the nature of the executive order, complaining that it was signed in "the middle of the night."
An indignant de Blasio administration insisted Mr. Stringer was wrong and the mayor had done nothing to weaken his oversight authority. Outside observers tended to agree with City Hall.
"This is an unseemly overreach. The order makes absolutely clear the Comptroller's authority is in no way affected," de Blasio spokesman Wiley Norvell said on Wednesday. "It's regrettable that without fully assessing the facts, the Comptroller would try to obstruct the City's efforts to reach more New Yorkers with a living wage."
On NY1, Mr. Stringer said he was striking a fine balance between collaborating with Mr. de Blasio on shared priorities and holding him accountable when needed.
"When we issued our arts education report, we were able to put a hundred more teachers in schools in central Brooklyn and the South Bronx. That's collaboration," Mr. Stringer said. "But you also have to be the auditor-in-chief and you have to letter grade agencies so you hold City Hall accountable to make sure that we deal with issue of income inequality by first looking at our own procurement policies."