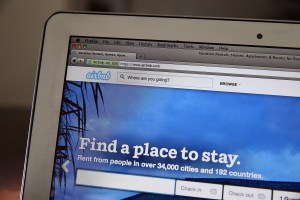 Despite the ease and low cost of renting a room or couch via Airbnb, there are many guests (and hosts) who worry about their safety–and, for all its merits aside, who wouldn't be with horror stories of drunk and scary hosts, squatters and apartments being used as brothels?
Of late, New York City officials and residents have been growing increasingly wary of the do-it-yourself hotel company–it seems that every week there's a new argument over the use of Airbnb for profit. This past Sunday revealed an Upper West Side apartment is being run as a hotel, a battle with the Attorney General over user information ensues, and laws to regulate illegal sublets are hurting real bed and breakfasts.
Share Better, a public safety tool launched by a hotel-industry funded coalition, is a website that aims to keep Airbnb users safe. The accompanying map, Share Safer, will let users see the location of their booking in relation to, above all, the residences of convicted sex offenders. The Share Safer map is dotted with red pins–indicating sex offenders, or blue pins which list "outstanding building code violations" according to the New York Post. 
The website also has space for trading horror stories about the so-called "illegal hotels". Hosts and guests, as well as elected officials and community groups, can use the space to speak out against Airbnb. Their mission is to inform people about the dangers of the company saying that it "enables New York City tenants to break the law and potentially violate their leases, it exacerbates the affordable housing crisis in our neighborhoods, and it poses serious public safety concerns for Airbnb guests, hosts, and their neighbors."
The Post performed a random search of 37 listings on Share Safer and discovered that there were 150 registered sex offenders located nearby. The map is not perfect, however. It also displays building code violations that seem perfectly harmless, such as illegally posted signs.
Airbnb claims that the Share Safer map is a scare campaign run by hotel owners to keep New York City residents and guests from participating in the sharing economy.