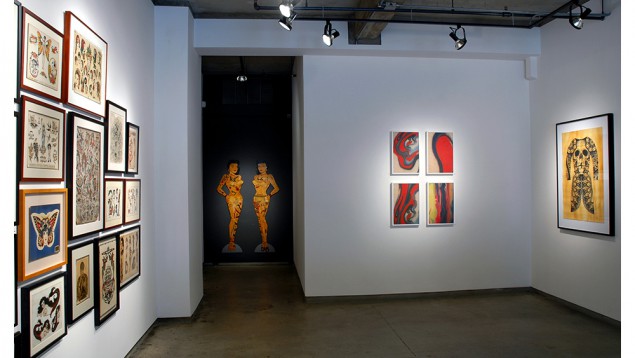 Getting your current squeeze's name needled into your butt when you've had a few too margaritas has become a rite of passage for a whole new generation, but it's also become a well-recognized, even revered, art form, as the variety and quality of the work currently on view at the Ricco/Maresca Gallery in Chelsea shows.
Which makes curator and noted tattoo historian Margot Mifflin's recent decision all the more shocking:  "I talked my 18-year-old daughter out of getting a tattoo this summer," says Ms. Mifflin, guest curator of the cool and compelling "Body Electric" tattoo art show on West 20th Street in Chelsea through October 25th.
"Of course it's her choice, but 18-21 is the biggest window for regret for women," notes Ms Mifflin, "so I encouraged her to wait."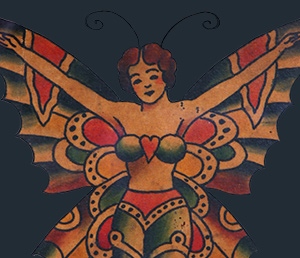 The show, described as "the next best thing to showcasing the living canvases that bear their designs," features vintage tattoo designs from the last hundred years as well as original art from contemporary tattooists across the globe, Lucerne to Los Angeles.
"I've written about tattoos, among other things, since the late 1990s, when my feminist history of tattoo art, Bodies of Subversion: A Secret History of Women and Tattoo, was published," says Ms. Mifflin.
Thanks in part to the don of contemporary tattooing, Don Ed Hardy, and a gazillion knockoff hats, t-shirts, sneakers and purses featuring his designs, "It's not even a subculture anymore," explains Ms. Mifflin. "It stretches across class and demographic lines now.
"I tried to show a range of sensibilities through the artists in the show," she says, "from Jef Palumbo, who does a kind of Photoshop collage style that's often imitated, to Jacqueline Spoerle in Switzerland, who does intricate, delicate silhouettes of folk scenes, to Chuey Quintanar in L.A., who does Chicano-style fine line tattoos." Most of these artists' tattoo work is custom-designed, not a template, she notes.
Why now? In the exhibition's essay, Ms. Mifflin argues compellingly that "the new auteurs have freed tattooing from the subcultural parameters that both sustained and restricted it for over a century."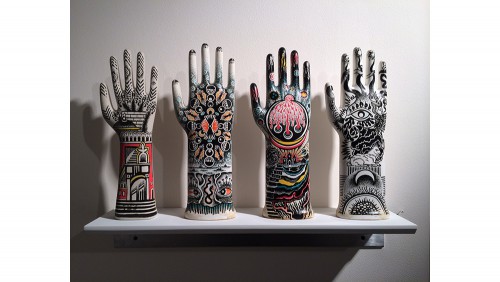 But does she herself have one?
"I'm not tattooed. I've always written about tattooing as a critic/reporter, not an advocate or an insider. If I were to get tattooed, which is a perennial possibility, I would go straight to Roxx of Two Spirit Tattoo in San Francisco. I like black and gray abstract, which is fairly timeless — and she's a master. "