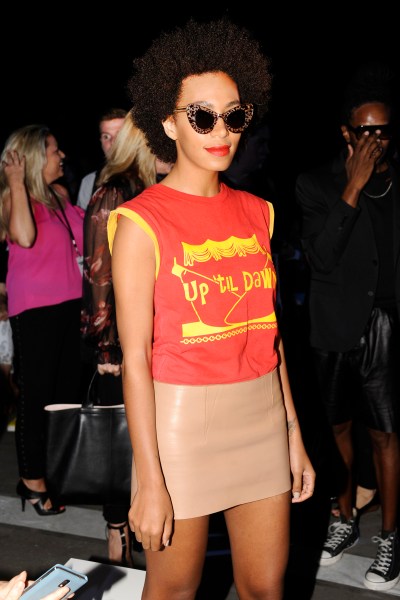 While Solange is known to be the ever slightly more outré of the Knowles sister—she did, after all, introduce her sister and her sister's husband to indie band Grizzly Bear back in the day—she's never had much interaction with the art world. She's content to put out great singles every once in a while, design sneakers for Puma, and get in little scuffles in elevators. She DJs Fashion Week parties sometimes. I've never seen her at an opening.
But then, this past weekend, Ms. Knowles teamed up with artists Rashaad Newsome and Tameka Norris for a party that was part of Prospect.3, the biennial that went down in New Orleans, the city she's called home for the last few years. There was creole food, there was bounce music, there was Mannie Fresh. It's not like she had a gallery show or anything, but hey, baby steps.
Now, it's come to our attention that Solange will inhabit the role of curator, if one applies a very flexible definition of that word, as people often do. Remember when people got very angry about that, misusing the word curate? Simpler times, back then. Anyway, for SELECT, one of the slew of satellite fairs that crop up in and around South Beach during Art Basel Miami, Solange will curate the main stage lineup, which will feature performances each night. Not that she really has a large pool to choose from: the picks will be culled solely from the roster of Saint Heron Records, which, incidentally, was founded by Solange.
If you are an enormous fan of Solange and her record label, you'll have plenty of opportunities to see her curation in action. And if not there's like an infinite number of things going on in Miami so it doesn't really matter.