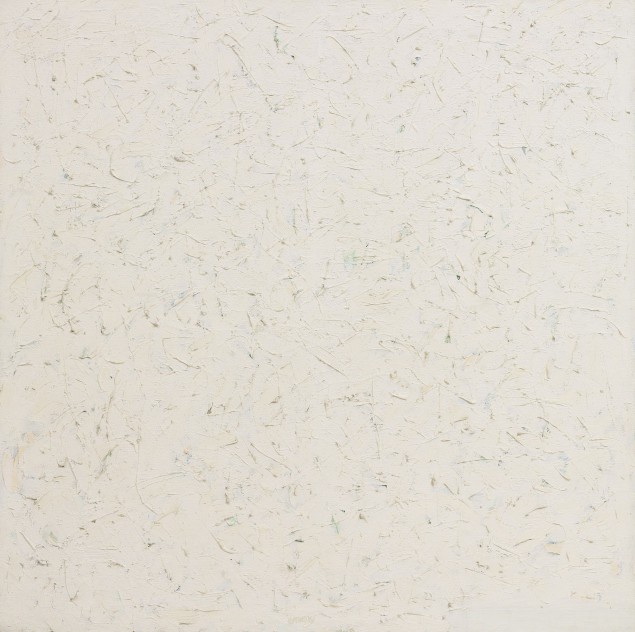 $20 million for an all-white painting? The market for monochromatic artist Robert Ryman is about to change, drastically, or at least that's what Sotheby's is betting big on with the addition of a sky-high priced work by the American painter to their November 11 Contemporary Art Evening Sale.
Sotheby's is expected to announce this week that a work by the 84-year-old cult conceptualist, known (and derided, though only by art-world outsiders) for his wide variety of white-on-white paintings, is on the auction block. The pushy $15 million to $20 million price estimate essentially doubles the artist's existing auction record.
Untitled, (1961) is a thickly textured work painted edge-to-edge, measuring 48¾ inches square, in stark white with traces of blue and green. Eight years ago, a monochrome white painting of Ryman's from 1962 sold for $9.6 million at Sotheby's, setting a record that has stood since. The current painting is guaranteed by the house personally—a risky arrangement that means the auction house has promised the seller a minimum bid regardless of whether anyone even raises their paddle at the sale.
The Ryman price is one of several confidant estimates recently announced by Sotheby's—some might say crazily confident, or highly educated guesses, depending upon your comfort with risk—heading into its blockbuster fall auction season. The company will offer two sculptures of female deities, The New York Times reported, one Alberto Giacometti's 57 inch-tall Chariot, a spectacular work likely to be keenly fought over, and the other Amedeo Modigliani's impressive Tête, and expects to see upwards of $145 million for both combined at their November 4 Impressionist and Modern sale. A gorgeous $50 million Vincent van Gogh and $20 million Jasper Johns flag round out the top offerings.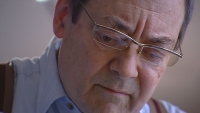 So whose idea was it to dream so big? "I thought there was really something to be done with the market, that's why its been priced so high," said Alexander Rotter, co-head of Sotheby's Worldwide Contemporary Art department, who's been given a lot of leeway ever since he helmed the company's largest sale ever, $381 million, last November. "The public needs a great piece to elevate the [Ryman] market and give it an indication of where it could go. The sky is the limit for this painting."
It's a well-established auction-house strategy to jumpstart the market for a particular artist with one prominent piece; the resulting high price brings a wave of similar work out of the closet and collectors, dealers and speculators can ride the wave to higher prices. The collector selling this one bought it at Sotheby's for $550,000 in 1988.
Overall, very few Rymans ever hit the auction block. The Observer spoke with Mr. Rotter about why. He said, "Ryman is mostly part of non-transactional collections, his works just don't get resold a lot." This could be, in part, because appreciating the seemingly minimal, monochrome aesthetic is tough for collectors to wrap their heads around, and their purses. On that subject, Mr. Rotter noted that, "the market hasn't paid much attention," adding, "although the paintings look simple, they are very complex as he takes a lot of time on each one."
Mr. Ryman has yet to respond to messages left at his gallery, Pace, seeking comment.
Ryman got a great deal of attention, much of it negative, when the play "Art" ran on London's West End and Broadway in the 1990s. (It later won a Tony for Best Play.) The play concerns a trio of friends whose friendship is nearly destroyed when one spends a very large sum on an all-white artwork. But there are collectors tremendously passionate about Ryman's work, and his place in art-world history is, to say the least, undisputed, as the Museum of Modern Art has 28 Rymans in its collection.
Sotheby's proactively sought out the 1961 painting, Mr. Rotter said; the consignor is a "distinguished European collector," who has had it for many years. The line of ownership runs through London's Mayor Gallery, another sale at Sotheby's in 1974, a private collection in Italy, and New York's John Weber Gallery."We really wanted this piece and poached him for a long time," said Mr. Rotter. It's size makes it rare compared with other (mostly smaller) Ryman works. His larger works are mostly found in museum collections, such as the Whitney's, MCA Chicago's, and the Stedelijk Museum's in Amsterdam.
Beyond the sale in 2006 of the 1962 painting, Ryman's work sold big—but not as big—in the '80s, '90s, and particularly the '00s, for prices between $5 million and near $7 million.
Sotheby's is sales-pitching it cross-category, noting that it might appeal to both the Minimalism collector and the Ab-Ex lover. Whichever movement you endorse, the Sotheby's specialist noted "it's a new, intellectual opportunity."
New York Times critic Roberta Smith had this to say about Ryman when she reviewed his 1993 retrospective at the Museum of Modern Art, curated by Robert Storr, who is now Dean of the Yale School of Art: "Over the years Mr. Ryman has focused on the diversity of whiteness—of different kinds and tones of white paint on different whitish surfaces—as relentlessly as Constable pursued his different skies: that is to say, with a determination that the facts, examined carefully enough, could yield poetry." She added, "Mr. Ryman's art reminds us that it is paint, scale and color that we look at first and last in all painting."
Perhaps Sotheby's is on to something. Because, by the way, in answer to the title question: "Would you pay $20 Million for an All-White Ryman Painting?" well, we'd consider it.
In related news: Works from Schlumberger Collection headed to auction at Sotheby's; notable Warhol, Rothko included among many works.