It was a cast of power brokers straight from the farthest reaches of New Jersey, yet the object of everyone's attention was not present.
Converging on the Robert Treat Hotel tonight on the invitation of MWW's Michael Kempner, the Democratic Party players had one

express purpose: positioning former Secretary of State Hillary Clinton in the big money game in New Jersey ahead of the 2016 presidential contest.
One insider characterized the affair as more power in a room since Yalta.
"This meeting is entirely off the record," said Kempner.
"Until somebody leaks it," he cracked.
Who was there?
Guests included South Jersey's George Norcross III and Senate President Steve Sweeney (D-3), sitting at one end of a long table.
Political operative Maggie Moran was in the room.
Former Clinton speechwriter Josh Gottheimer was in the room. He organized the event with Kempner, the emeritus.
He addressed polling data, a budding power player in the room.
The two state directors for U.S. Senators Bob Menendez and Ciry Booker – Paul Brubaker and Mo Butler respectively – attended.
His boss less than two weeks from Election Day, Butler got the laugh of the night when he said he had heard enough about fundraising.
Menendez's former state director Michael Soliman attended.
Jersey City Mayor Steven Fulop was in attendance.
So was his chief of staff, Mark Albiez.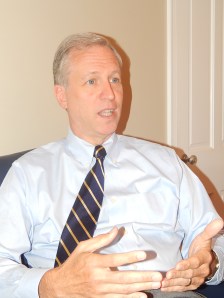 So was Assemblyman John Wisniewski (D-19).
Like Kempner, another member of the 2008 group, Zenon Christodoulou, was in the room.
So was attorney Angelo Genova.
Former U.S. Rep. Rob Andrews (D-1) attended. So did Somerset County Chair Peg Schaffer, operative Caryn Turner and attorney Elnardo Webster.
Mark Matzen was in the room, too.
More names: attorney Victor Herlinsky, former U.S. Rep. Herb Klein, Steve Goldman and Rabbi Genack .