The allies of former Mayor Lorenzo Langford have begun making the phone calls in Atlantic City with the express purpose of mounting a Recall Don Guardian movement, AC sources say.
Langford got cold-cocked by Guardian last year.
Sources say the election outcome sneaked up on the mayor, who up until the closing days of the campaign felt no fear in the challenge of a friendly bow-tied gay Republican riding around town on a bicycle, a source told PolitickerNJ.
Now he's back on the ground and in the wards, his operatives organizing and pushing for a recall.
Sources say the Langford lieutenants are alert to the growing political power on the City Council of Councilman Frank Gilliam, who
is eying the council presidency currently occupied by Councilman Speedy Marsh and conceivably looking to consolidate early support toward his own future mayoral bid.
Seeking in part to block out Gilliam, in part to soften up Guardian, Langford wants back in the mix.
"There's chatter in the various wards and phone calls to key people – people that helped get out the vote on the Langford team," a source told PolitickerNJ.
The effort comes as Guardian faces the challenge of putting together his own slate of council candidates ahead of next year's ward races, where six seats and control of the nine-member governing body are at stake.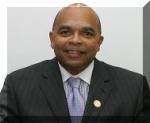 Having essentially ignored Guardian in 2013, Atlantic County Republicans don't intend to make that mistake again, and plan to help the mayor carve out a credible team of challengers, sources say.
Local GOP leader Jesse Kurtz has some grassroots stock waiting for resources, a source said.
The establishment realizes, however, that any kind of challenge presents a double-edged sword.
Despite its Hap Farley past, Atlantic City proper is overwhelmingly Democratic.
If Guardian sneaked into City Hall because Langford and company were asleep, what might the consequences be of the mayor starting a citywide war in all six wards?
Those internal debates about strategy are ongoing right now in Guardian land, as Langford forces undertake a play for traction with the budding stages of a recall effort, sources say.