James P. and Marie E. Kelly do not seem to be cohabitating these days—with him, a financial services executive, posted up in a Chelsea co-op and Ms. Kelly, a former Merill Lynch managing director, in a handsome West Village rental—which is, of course, regrettable. But to look, for a moment, at the bright side of things, the pair have just sold off a co-op at 760 Park Avenue whose deed bears both their names, according to city records.
Perhaps Ms. Kelly will find herself soon enough in a more permanent arrangement of her own—if she's interested, that is. In any event, her share of the $16.55 million haul ought to cover something pretty spiffy, even in this, our era of decadence. John Burger, of Brown Harris Stevens, had the listing.
Still, the buyers, Robert and Natasha Boucai, bargained the asking price down by about $1 million, something of a trend at Park Avenue co-ops this week.But that's not to say the product is in any way compromised. A grand floor-through with a 22-foot corner formal dining room, panoramic views, and classic molding and hard wood, the co-op blends the luxurious upgrades of recent renovation with a kind of understated stuffiness befitting the Upper East Side address. (Mr. Boucai, naturally, is a hedge fund manager.)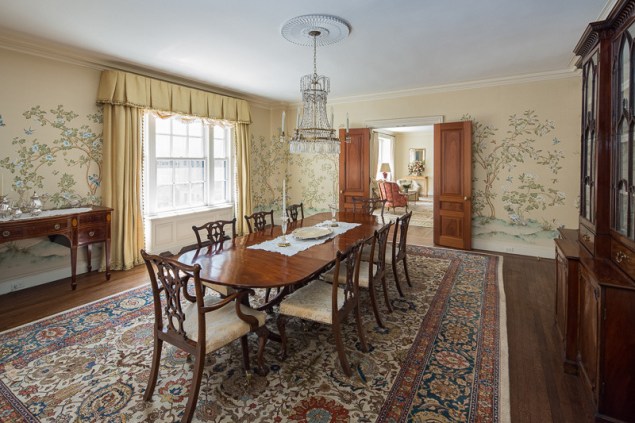 The open kitchen is all blonde wood, brand name stainless steel and granite, while a library sports rich custom wood paneling. The previous owners seem to have had a thing for patterns, which they put to good effect in selecting Oriental rugs. But the Boucais, of course, will not have the benefit of said rugs, and will nonetheless be left with some dizzying wall-to-wall carpeting, inspired, seemingly by the same predilections. (There's also some sylvan, Asian-ish mural work in the dining room, which we quite like, but which might not be to everyone's taste.)
Less controversial, as far as woodland-themed amenities go? The 90 feet of exposures facing the Park.