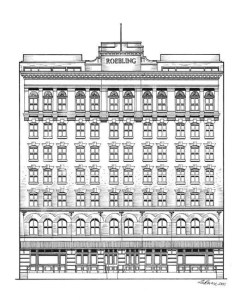 Like many New Yorkers, we find ourselves frustrated by the increasing frequency with which big-ticket condo swappers make use of anonymous LLCs to shield their identities in city records. It's a practice that makes an already anonymous town more anonymous still, and which carries with it suggestions of both pompousness and unsavory chicanery. And yet names occasionally pop up—names of the honest-to-goodness variety—that surprise us, in that they belong to folks who we'd have thought might like to keep them out of the public eye.
One such name, that of Chandler Bocklage—a hedge fund trader, formerly of SAC Capital, who once called himself Steve Cohen's "right-hand man," and who testified this year at the trial of his soon-to-be-imprisoned colleague Mathew Martoma—appeared yesterday evening, alongside his wife, Alanna's, for the sale of the couple's 4,200 square-foot Tribeca condo at 169 Hudson Street for $6.25 million.
Then again, when they bought the place in 2010, for $5.25 million, SAC—nowadays known as Point72 Asset Management, which Mr. Bocklage left last month—had yet to enter the public eye for an insider trading scandal that cost the company $1.2 billion in penalties (and Mr. Martoma his freedom). Thus, perhaps no need for anonymity was felt at the time, and anyway, Mr. Bocklage has seemed unpersuaded since as to the justice of SAC's fate—and unembarrassed about his place in the firm—calling Mr. Cohen "the greatest trader of all time," in testimony. (A recent feature in the New Yorker, on the other hand, about Mr. Martoma's saga, which ended with a nine-year prison sentence, repeatedly compared the SAC kingpin's tactics to those used by organized crime figures.)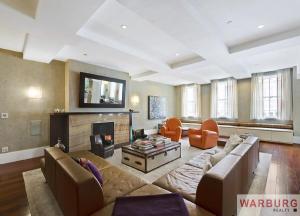 At any rate, the apartment, which was listed with Richard Steinberg and Matthew Slosar of Warburg, is roughly what you'd expect in light of the foregoing. Built as a warehouse in 1893, the Roebling Building, as 169 Hudson is known, was converted in 2000 into 12 luxurious residences. There are high, beamed ceiling, enormous windows and a wood burning fire place. A temperature-controlled wine closet has space enough for 50 bottles—post-bonus champagne is, after all, quite useless without reliable temperature control. And to be sure, vino is something those in the nonprofit world can enjoy, too. Joe Daniels, who serves as president and CEO of the September 11 Memorial Museum, and his wife, Naomi, were the buyers.