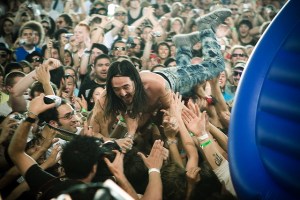 Western music is popular all over the world, but language barriers can make it difficult for foreign fans to lose themselves in the songs and shows.
To unite fans from the East and artists from the West, DJ and Producer Steve Aoki is endorsing AsQme, an AMA-style site where Japanese fans can ask Western artists questions to help them better understand their music. The Japanese-American electro house musician will host the site's first AMA, which will start on October seventh and run for a staggering three weeks.
The site works similarly to a Reddit AMA. First, an artist launches a campaign, and then fans can submit and upvote questions. The most popular questions are then translated by the site and sent to the artist for an answer. The main difference is that the responses are a little more personal. Rather than just replying to comments, the artist responds with video messages that are subtitled in Japanese.
The site sounds great for a growing music community, but it's doubtful it will give Japanese fans a deeper meaning of "No Beef," if that's what they're after.
[youtube https://www.youtube.com/watch?v=dJH7VO0PcZY&w=853&h=480]
(h/t Tech in Asia)