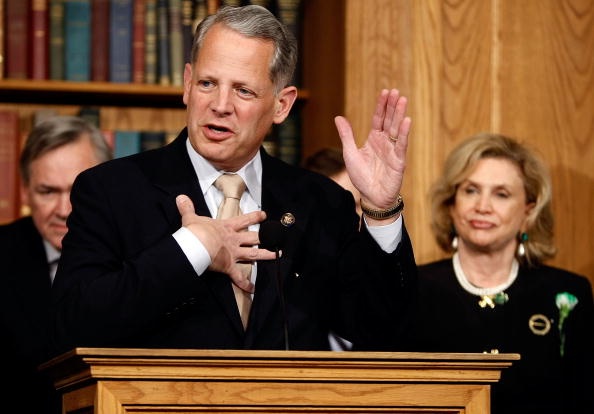 Congressman Steve Israel told radio listeners today that former Brooklyn Councilman Domenic Recchia Jr. has the clear "momentum" in his effort to oust Republican Congressman Michael Grimm.
Speaking on WNYC's Brian Lehrer Show, Mr. Israel, the chair of the Democratic Congressional Campaign Committee, proclaimed that voters in Mr. Grimm's southern Brooklyn and Staten Island district are moving away from him and toward Mr. Recchia. Mr. Israel alluded to internal polls showing the race is a dead-heat, after a Siena College/NY1 poll showed that Mr. Grimm led his rival by four points among likely voters.
"We're very optimistic about that based on trends, we've got the momentum in that race, clearly," Mr. Israel said.
The Long Island and Queens representative argued that voters are not necessarily turned off by Mr. Grimm's 20-count federal indictment for hiring undocumented immigrants at a restaurant he owned prior to his election in 2010, as many may perceive it as politics-as-usual.
"The news of an indicted Congressman generally, people think of that, as 'is that news, isn't that what you do when you go to Congress?'" Mr. Israel said.
Mr. Israel argued, however, that many voters are increasingly repelled by the principle behind the indictment–that their congressman allegedly operated as though he were above the law.
"Voters are now more aware not that Mike Grimm had a 20 count indictment, but that he was playing by a different set of rules than the ones he set for his constituents," said Mr. Israel. "That idea, because you are in politics you don't have to play by the rules, you don't have to pay your taxes, you don't have to treat your workers fairly."
This disaffection, Mr. Israel said, was making voters look for an alternative in Mr. Recchia–whom Mr. Israel characterized as a "tremendous fighter for the middle class."
"The more the voters hear about that dissection, one set of rules for Mike Grimm, another for his constituents, the more they're turning toward Domenic Recchia," Mr. Israel said.
Mr. Grimm's camp dismissed Mr. Israel's remarks as little more than threadbare rhetoric.
"It's time for Steve Israel to change the tired, broken record, and this latest attack once again proves that Recchia's entire campaign boils down to slinging mud at Congressman Grimm," said spokesman Nick Iacono. "The fact is, as more voters in Staten Island and Brooklyn find out that Recchia will carry the water for the radical liberal dream team of de Blasio, Al Sharpton, and Pelosi, the sooner they will send him packing."
Updated to include Grimm campaign comment.