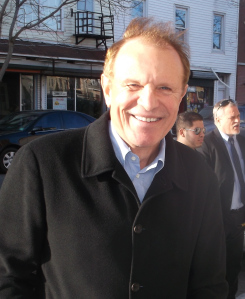 Dissenting senators flailed away before their colleagues passed the controversial Assembly Bill 3213, which makes tax credit transfer certificates under the "Urban Transit Hub Tax Credit Act" and the "Grow New Jersey Assistance Act" (GROWNJ) more widely available by reducing the minimum amount of the credits that may be transferred to $25,000.
Backed in the Senate by veteran state Sen. Ray Lesniak (D-20), the bill passed 21-5.
"We have to be a player," argued state Sen. Robert Singer (R-30), in defense of the bill. "We can't afford not to be a player."
His Republican colleague strongly objected.
"The Office of Legislative Services has told us this bill is likely to have a negative impact," said state Sen. Gerald Cardinale (R-39). "New Jersey can't afford any more negative economic impacts. It's amazing to me this is even up for a vote. I usually agree with the governor. I would urge everybody to take a look at this."
The bill sparked significant debate.
Derided by critics as a kowtow to corporate power, A3213 makes several changes to GROWNJ in order to attract businesses to create new jobs and retain current employees, according to the language of the bill. The changes are designed to encourage non-profit corporations to undertake projects.  GROWNJ currently allows a business to assign its ability to apply for a tax credit to a non-profit organization with a mission dedicated to attracting investment and completing development and redevelopment projects in a Garden State Growth Zone.  The bill expands upon this provision by allowing a non-profit organization to make an application for tax credits on behalf of a group of businesses that would not, on their own, qualify for tax credits, and to consider the application as a unified project that may be eligible for incentives.  The bill allows the developer of a project that will bring a large full-service supermarket to the City of Camden to apply for tax credits on behalf of the business, if so assigned by the business, and to also apply for tax credits on behalf of a group of businesses that would not qualify for tax credits individually, and to consider the application as a unified project that may be eligible for incentives.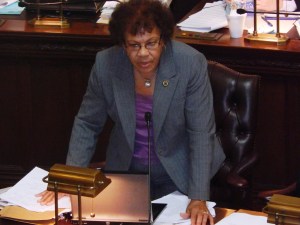 State Sen. Steve Oroho (R-24) said he prefers lower rates as a solution, but plugged this as a stop gap.
"We have too much regulatory burden and we have too much tax burden," Oroho said.
His Western New Jersey colleague state Sen. Mike Doherty (R-23) disagreed on the substance of the bill, and voted no.
So did veteran state Sen. Shirley Turner (D-15).
"My concern is we continue with this program of job subsidies and no idea of whether it's effective," Turner said. "We cannot afford it. We cannot find money to restore the Earned Income Tax program. But we have money to keep shoveling out the door. I'm supportive of economic opportunity but more supportive of accountability and transparency.
"Madness," she added.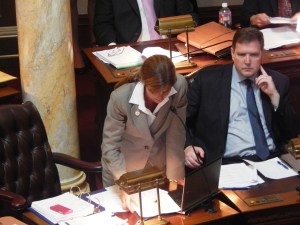 State Sen. Jen Beck (R-11) insisted on her comfort level that the bill would create jobs.
"Stop the presses. I agree with Governor Christie OLS is dead wrong," said Lesniak, who thanked Beck, Oroho, and Singer.
"This bill spends not one dollar of taxpayer money," he added.
In an interview earlier this year with NJTV's Michael Aron, Lesniak called Christie a "horrible" governor.
Gordon MacInnes, president of the New Jersey Policy Perspective, denounced the bill in a statement.
"New Jersey policymakers should be responding to the out-of-control surge in business tax subsidies by making the state's programs more effective, imposing greater discipline on incentive awards and increasing accountability and transparency," MacInnes said. "This bill, for the most part, does the opposite and is yet another step in the wrong direction.
"The bill will almost certainly increase the amount of subsidy dollars being awarded over the next five years at a time when these awards are already at a record high. This is bad enough on its own, since subsidies are known to be an ineffective method of growing a state's economy. But it gets worse. The bill will also weaken standards used to determine whether a project can receive an incentive, continue to erode taxpayer protections, greatly expand the types of projects that can receive the most lucrative subsidies and create a whole new five-year incentive program."