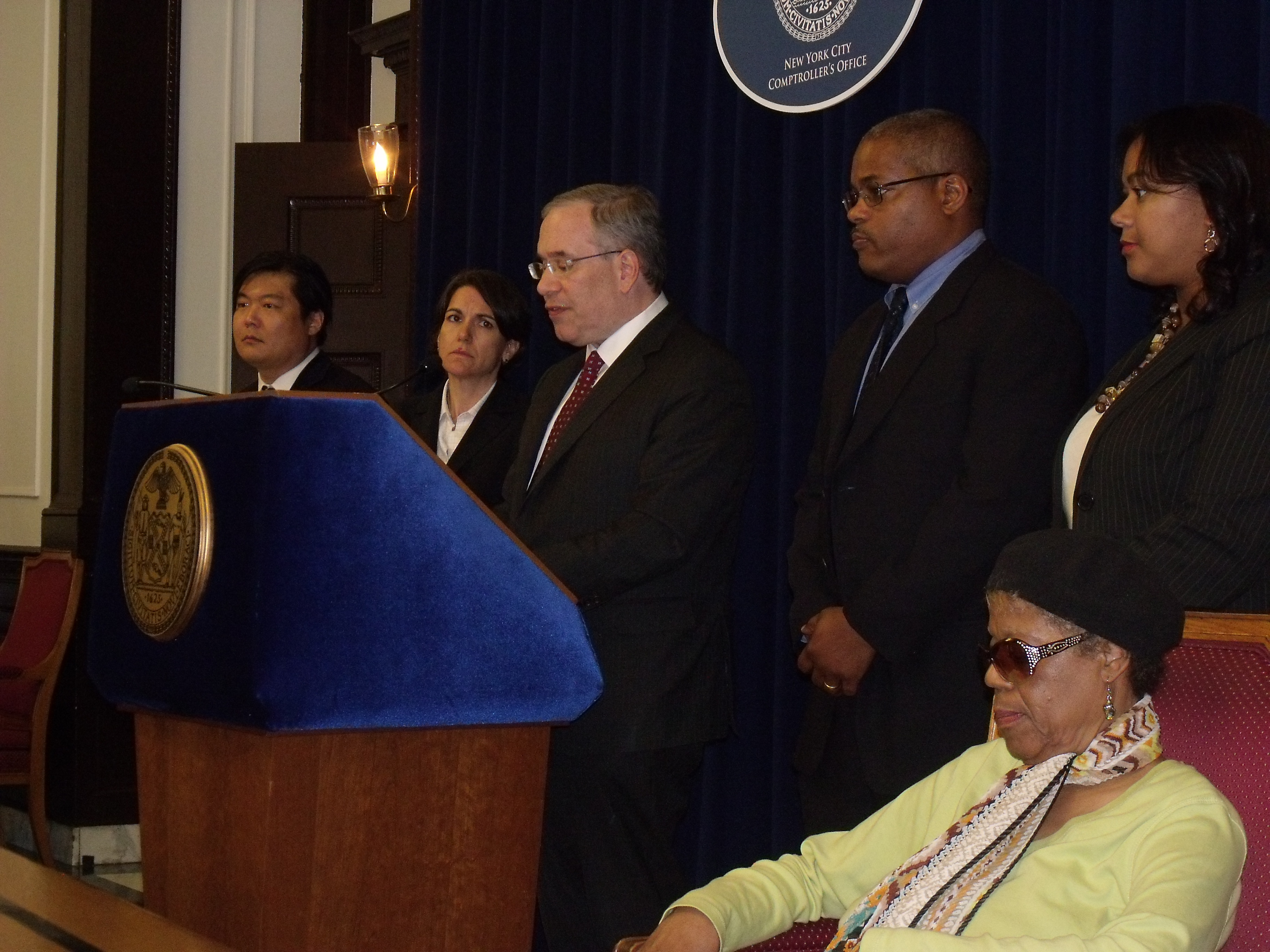 Comptroller Scott Stringer announced a $2.25 million settlement with the family of Jerome Murdough, a veteran who died in an overheated Rikers Island cell — and called for "fundamental, real reform" in the city's jails.
"On behalf of the City of New York, I am sorry, Mrs. Murdough, for your loss," Mr. Stringer told Mr. Murdough's mother, Alma, in his Manhattan office's today.
Mr. Murdough, 56, was a homeless former Marine who was arrested for trespassing and held on Rikers Island because he could not make bail. He died in an overheated cell, and his mother wasn't informed until an Associated Press reporter called her a month later.
His family filed a claim against the city alleging negligence and a civil rights violations, and Mr. Stringer's office exercised its power to settle the claim before going to court.
"I hope that in some small measure, it will provide comfort for Mrs. Murdough and her family," Mr. Stringer said, adding he could not provide all details of the settlement. " Our office worked diligently to avoid litigation and reach an agreement that acknowledges the true, tragic nature of Mr. Murdoch's death."
The Murdough family's attorney, Derek Sells, said the settlement spoke to the "plight of many people who suffer at the hands of mismanagement, at the hands of uncaring guards and people who allow for things to happen like they did to Jerome Murdough."
"Mr. Murdough essentially got the death penalty simply for being arrested for trespassing — he never got an opportunity for his day in court to challenge the charges that brought him to Rikers Island," Mr. Sells said.
Mrs. Murdoch spoke briefly, saying it was hard to discuss the issue after having gone through so much.
"This is a very awful thing that I'm going through, and I hope that nobody else ever has to go through something like this," she said.
Mr. Murdough's death, first reported by the AP in March, was among the first in a series of well-publicized scandals for the city's Department of Correction in the press. This summer, the New York Times outlined the jail system's use violence against those with mental illness — like Mr. Murdough. Not long after, U.S. Attorney Preet Bharara released a 70-plus page report alleging a "culture of violence" against teenagers in the youth jail at Rikers Island.
"What seems clear is that Rikers Island is broken and in clear need of reform," Mr. Stringer said.
More recently, the Times reported that two top officials in the youth jail, William Clemons and Turhan Gumusdere, had overseen the underreporting of fights there under the previous administration; rather than being demoted, as recommended, a prior corrections commissioner removed critical findings from an internal report. Mayor Bill de Blasio's Correction Commissioner Joseph Ponte went on to promote them — making Mr. Clemons the high-ranking chief of department — and defended Mr. Clemon's post even after news of the report being scrubbed had emerged.
This week, Mr. Clemons retired. Mr. Stringer noted today he had called for Mr. Clemons to resign.
"I am glad that he is no longer going to be working in the jails here," Mr. Stringer said.
But the prison system needs more "fundamental, real reform," he told the Observer at today's press conference, saying teenagers and those unable to make bail should not be languishing in the massive city jail complex.
"There are people in Rikers who are innocent until proven guilty — they should be protected. They should be safe. And I believe this corrupting cloud that hangs over Rikers should be dealt with immediately," Mr. Stringer said. "I think what we need is a full-on press to create the atmosphere that we need in Rikers."
Was Mr. de Blasio — with whom Mr. Stringer has often tousled and who often points to the bad shape Rikers was in when he inherited it — doing enough to turn things around?
"I'm hoping there's gonna be a full court press," Mr. Stringer told the Observer. "But now is the time to bring it."