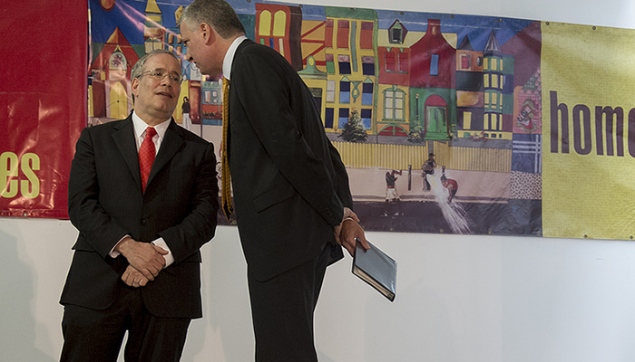 Comptroller Scott Stringer took city agencies to task today for their lackluster record of working with minority and women-owned business enterprises — giving the New York a "D" average in a report-card style report he released today.
"By any measure, nobody can be satisfied with what's here today," Mr. Stringer said.
The city's procurement rate with minority- or women-owned business enterprises, known as MWBEs, is just 3.9 percent, he said, despite more and more firms being certified as women- or minority-owned.
"We're going to hold agencies accountable for their MWBE performance for the very first time," Mr. Stringer said, comparing the grades to the food safety ones posted outside restaurants.
His office gave no agency an A-grade; two earned Bs. His own office — "not doing so hot" earned a C by Mr. Stringer's metric for measuring how often agencies procure goods or services from MWBEs. The agency grades looked only at agency spending, not contracting, and excluded spending not subject to the law outlining MWBE goals.
While some of the data used for the grades comes from the previous administration, Mr. Stringer said Mayor Bill de Blasio — and himself — bears responsibility.
"Everyone should be held accountable. I'm now comptroller for nine months. I should be held accountable. Of course the mayor should be held accountable, as the previous administration. And I don't think that's a bad thing, because part of what I have to do is hold everyone accountable, including my own office," Mr. Stringer said. "By any measure, nobody can be satisfied with what's here today."
But Mr. de Blasio noted that things have been improving under his leadership.
"I think it's another example of taking primarily older data and assessing it, and I would agree that past performance was unacceptable," Mr. de Blasio said after an unrelated press conference this afternoon. "But I think if you're talking about January first to the present, you see the beginning of a new approach — with 641 MWBE firms that have been certified in the first nine months of the year, that's a much faster pace than before. You're gonna see a lot more of that happening."
The comptroller — who also hit the mayor today over his living wage executive order — did note that there's been an uptick from 2.7 percent at the start of the year, but said the city is still below the 5 percent procurement rate it hit a few years ago.
And while the city is certifying many contractors as MWBEs, as the mayor mentioned, Mr. Stringer said it's not helping them get contracts.
 "There was such an effort to certify MWBEs that the trail was never finished," Mr. Stringer said. "I don't think we mentored these firms."
To help boost the rate of MWBE procurement, Mr. Stringer recommended preparing plans, offering training and holding agencies responsible for reaching goals; increasing the information available about MWBEs on city agency websites; and tidying up data entry used to track MWBE procurement.