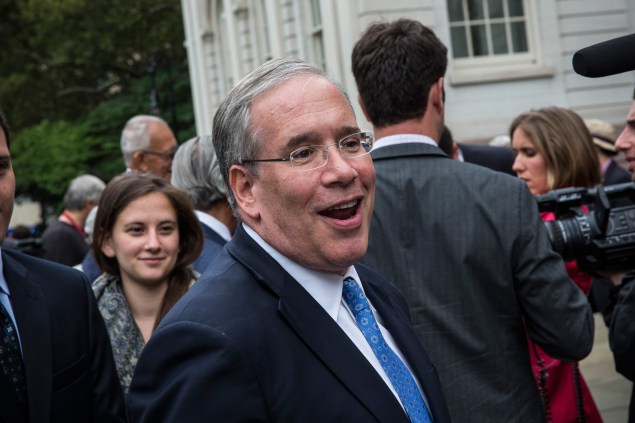 Comptroller Scott Stringer slammed Mayor Bill de Blasio for skirting the City Council to pass an executive order "in the middle of the night" to raise the living wage — and continued to argue that the order stripped his office of oversight power.
"You're taking away by executive order our ability to do our job. You bypass the City Council, because you didn't need to go and have hearings and go through the legislative process," Mr. Stringer said at an unrelated press conference. "And then, in the middle of the night, you issue an executive order, you don't tell anybody about it. And then you think thats ok? Well, I'm here to tell you something — we're going to do our job. We're going to audit and investigate. We're going to letter grade agencies. And we're going to speak up loud and clear when we see something going in the wrong direction."
The latest skirmish between Mr. Stringer and the mayor comes after the mayor signed an executive order yesterday boosting the city's "living wage" law — increasing the minimum wage at products with $1 million in city subsidies to $13.13 an hour, and expanding it to apply to tenants of buildings subsidized by the city. Mr. de Blasio announced his plans for an executive order on the subject at the State of the City address earlier this year; he signed it an event yesterday afternoon.
While Mr. Stringer supports living wage boosts he has argued, first in the New York Post yesterday, that the new executive order cedes his oversight power to the mayoral Department of Consumer Affairs, something City Hall says is not true.
"Your answer should not be to take away my authority. Your answer should give us the ability to do our jobs, but we have a number of tools in the toolbox to do our job. It's unfortunate that they took this tack," Mr. Stringer said. "I actually think you should be looking at ways to engage the City Council so that they can hold hearings and they can do their work. I'm calling on the City Council to put forth legislation that would give back the authority of us to look at living wage."
But a City Hall spokesman insisted that authority remained with the comptroller's office, citing a passage within the executive order: "this Order shall not be construed to infringe upon the Comptroller's responsibility for monitoring compliance with, and conducting investigations under, the Fair Wages for New Yorkers Act."
Mr. Stringer's office maintains that language means Mr. Stringer's oversight only applies to the law — which does not cover the new class of workers or the higher wage — and not the new executive order.
"That is totally not true, straight out," Mr. Stringer said to City Hall's assertion that his authority hadn't been infringed upon. "[They are] taking the authority of this class of workers and trying, with a wink and a nod, to think we still have an authority over workers at $11 an hour and it's now $13."
Not for the first time, Mr. Stringer finds himself alone among Democrats in criticizing the mayor for how he handled the executive order — even Council Speaker Melissa Mark-Viverito declined to take issue with the Mr. de Blasio passing over entirely her branch of government, standing beside him as he rolled out the order in the Bronx yesterday.
The comptroller also harshly criticized the mayor for failing to provide him with universal pre-kindergarten contracts to be registered before the first day of the school year, and vowed to be an independent voice in city government.