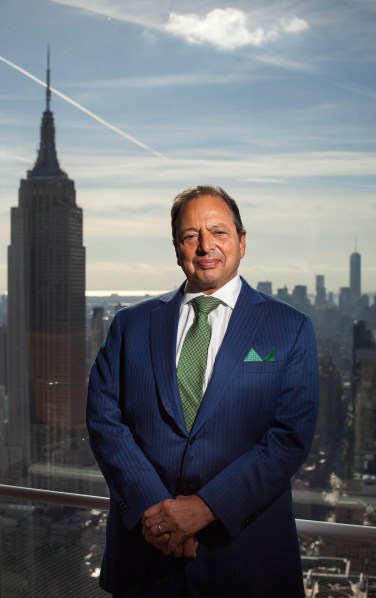 Call Douglas Durst the anti-real estate developer. Though he spends his days planning to erect New York City's tallest buildings, such as 1 World Trade Center, Mr. Durst also devotes his free time to contemplating how to create and preserve public parks and open spaces. Mr. Durst's pursuits might seem contradictory, but have a thru line: improving urban space.
In fact, for the lifelong New Yorker, environmental efforts, from preserving the California coast to creating more playgrounds in Queens, are the "highest and best use," as they say in real estate, of his business experience. In his work on the board of The Trust for Public Land, a nonprofit that preserves and creates public parkland, his years navigating turbulent legal and political waters came in handy earlier this year. The conservation organization was close to establishing Coast Dairies State Park in Santa Cruz, Calif., when a last-minute lawsuit was filed to block the project. The litigant suggested a settlement, and the group was considering the proposition, when Mr. Durst weighed in. "I said they'd be silly to even consider [settling]," he told the Observer in his Midtown Manhattan office, framed by views stretching from New Jersey to Queens. The case was ultimately dismissed.
Mr. Durst helped the nonprofit Roundabout Theater find and keep space. He pulled strings in city government to help the theater troupe secure the space for the American Airlines Theater, at 227 West 42nd Street, after the city condemned the land.
For The New School, Mr. Durst negotiated the sale of two buildings and sits on the university's board.
At times, his passion has even ruffled feathers. Once a co-chair of the board of the Friends of Hudson River Park, Mr. Durst was kicked out of the volunteer post in December 2012, after getting into a dispute over his real estate acumen. As the Observer and others have reported, Mr. Durst thought that Pier 40, along the Hudson River in the West Village, should be adaptively re-developed as mixed-use space. Others on the board thought residential space was more appropriate—something Mr. Durst found impractical. Alas, Hurricane Sandy seems to have made both plans irrelevant for the time being.
Mr. Durst has moved on; he is now focusing his attention on the Queensway project, a 3.5-mile sort of outerborough High Line that the Trust for Public Land plans to construct along an abandoned railway stretching between Rego Park and Ozone Park. The elevated pedestrian and bicycle pathway would add recreational space, commute options and well, trees, to a swath of Queens.
"It requires a lot of funding but we believe Mayor de Blasio is going to be a big supporter, so we believe we'll be able to get it started during his administration," Mr. Durst said, neglecting to mention that he holds some sway; he has been a big financial supporter of the mayor.