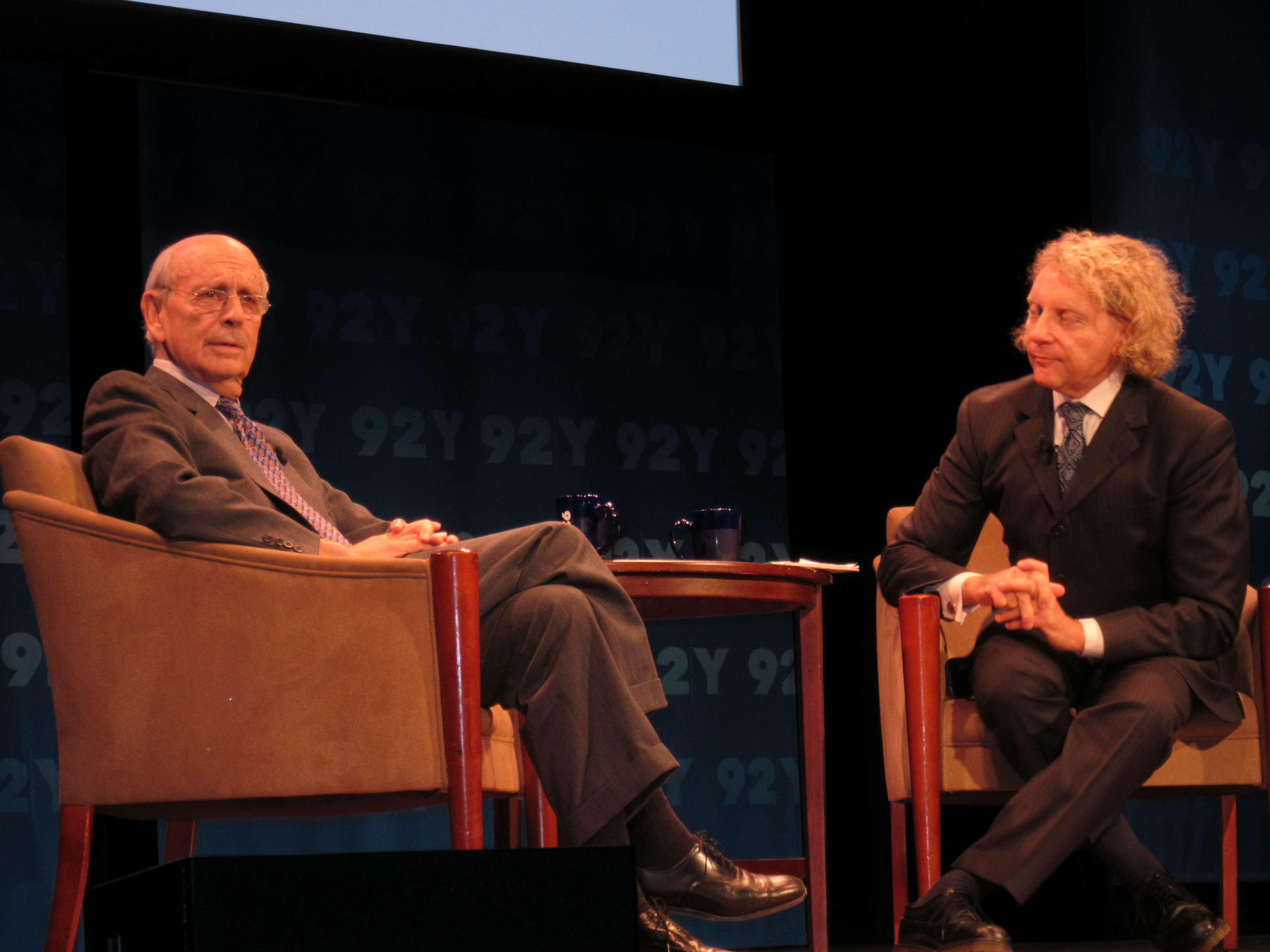 Supreme Court Justice Stephen Breyer last night revisited two of the most contentious decisions of his 20-year tenure on the bench of the nation's highest court–2000's Bush v. Gore and 2010's Citizens United v. Federal Election Commission, both cases where Mr. Breyer found himself in the dissent.
Mr. Breyer, an appointee of former President Bill Clinton, was the first guest speaker at a film and discussion series jointly organized by the Forum on Law, Culture and Society at New York University School of Law and the 92nd Street Y. The jurist selected the 1962 Jimmy Stewart and John Wayne Western "The Man Who Shot Liberty Valance"–where the hero ultimately is not Mr. Wayne's rugged gunslinger Tom Doniphon, but Mr. Stewart's intellectual attorney Ransom Stoddard–and, after a screening of the movie, used it as a jumping-off point to discuss the role of law and lawyers in society.
Mr. Breyer recalled voting with three of his colleagues in the minority against allowing Republican Florida Secretary of State Katherine Harris to certify a ballot count that put former President George W. Bush ahead of former Vice-President Al Gore. The justice said he frequently holds up the case to law students as an example of the strength of the American system, despite his disagreement with the majority decision.
"Taking the students, I say 'what do you think of Bush v. Gore?' I say, 'I think you don't have to tell me what you think.' And that's a very good example, it's a good example, why? Because it's an important decision. It's an unpopular decision, at least with half of the country, and then I add usually maybe a few more than half. I signed onto the dissent, all right? I thought it was wrong, unpopular and important," Mr. Breyer said.
The jurist went on to paraphrase an observation by Senate Majority Leader Harry Reid: "Despite being unpopular, despite the fact that it was wrong in my opinion, and its importance, there were no riots, there were no police trucks in the streets, there were no people throwing stones. And that is a tremendous virtue of our system. Well, I then say to my students, 'you don't have to answer. I know perfectly well that at least 20 percent are sitting there thinking–too bad there weren't stones being thrown and riots. Too bad.' Well, turn on your television set. And you're going to see what happens in countries that solve their problems that way."
But Mr. Breyer was less upbeat when he later addressed an audience question about whether he thought there were any "benefits"  the Citizens United decision, which struck down federal limits on independent expenditures by unions and corporations–and thus opened the door to unlimited spending on elections from outside groups. The judge said he knew of no way to make campaign finance reform workable under the ruling.
"Well, people will have to work hard to find out some other way with this campaign finance problem. I haven't found too many yet," he said.