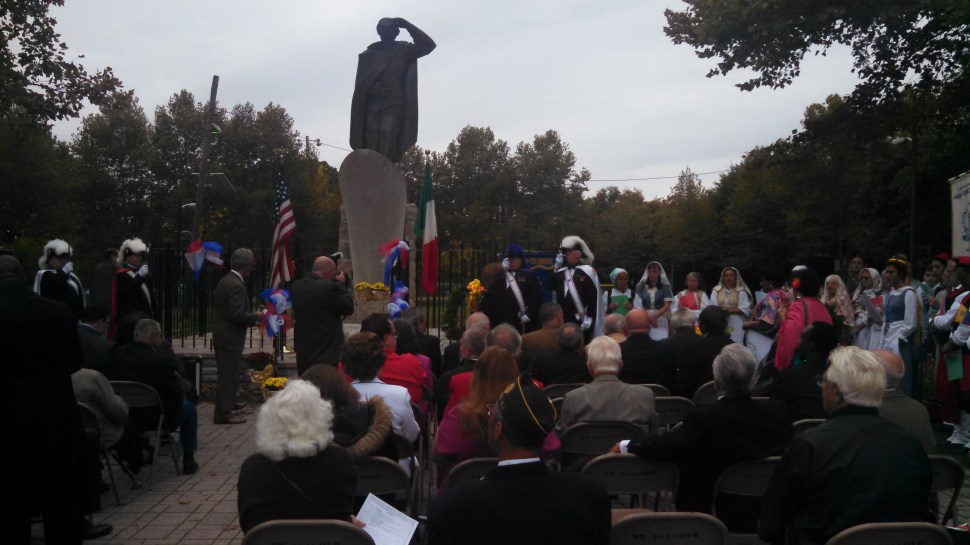 TRENTON – Senate President Steve Sweeney today called the New Jersey NAACP's decision to invite Gov. Chris Christie to their annual membership event this weekend the "right" choice — but also questioned the governor's commitment to the state's urban communities as his political movements continue to hint at a 2016 presidential primary run.
Speaking to PolitickerNJ following a Columbus Day ceremony and wreath laying here at Columbus Park in the capital city, Sweeney echoed the sentiments of other urban and civil rights leaders who criticized Christie's guest appearance in Parsippany on Saturday as a "dog and pony show," citing a lack of engagement from the front office on issues important to the organization and its members over the governor's tenure.
"I think it's right for them to invite the governor, and you know, they didn't hold back," Sweeney said of the organization's invitation. "Richard Smith made it very clear what their priorities are. And they wanted him to hear it directly from them. So I think that was a very smart thing by the president of the NAACP — and you know he didn't mince any words."
Critics of Christie's appearance on Saturday noted it was the first time the Republican addressed the civil rights group since being elected five years ago — Smith heralded Christie's address as the start of a "long overdue dialogue" between the governor's office and the NAACP — while others lamented the lack of progress on priority issues during that time, from education to employment to the inclusion of African American judges on the state's highest court. Many of those complaints were captured in a particularly pointed judgement by state Assemblywoman Bonnie Watson Coleman,  a congressional candidate in the state's 12th district vying for a seat left vacant by retiring U.S. Rep Rush Holt, who blasted Christie's "abysmal record when it comes to most issues that are important to communities of color."
But the verbal and written disparagement — much of which came from the NAACP's own Camden and Newark chapters — is made even more pointed as they come amidst state and nation-wide discussion about Christie's plans for a presidential primary bid. Christie has touted recent achievements by the state's legislature on civil rights-related issues, like this summer's bail reform package, as he tours the country as head of the Republican Governor's Association, earning the commendation of some urban leaders but frustrating others who see him as using the state's poorest communities to his political advantage.
Today, Sweeney — who also spoke at Saturday's NAACP event and who, too, looks to be mulling future political ambitions — noted the legislature has reached certain milestones under Christie's leadership, mainly with ban the box and bail reform legislation. But he pointed to other areas where Christie has stunted progress — like refusing to take advantage of federal funding for SNAP benefits vetoing legislation to increase the state's minimum wage.
"You know, you win [the urban vote] by supporting people in those areas, and he hasn't done all that much to help those who are struggling," Sweeney said. "Millionaires are the only ones doing well in this state right now. It really is true — the rich are getting richer and the poor are getting poorer."