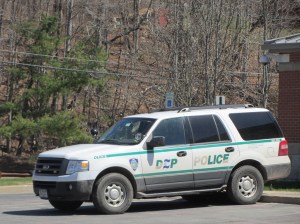 Three employees of the Department of Environmental Protection got a sweetheart deal in which they received fishing trips, Las Vegas vacations and Yankee tickets in exchange for extending the city contracts for Houston-based company Flo Trend.
DEP employees Dennis Jones, 48; Thomas Bentsen, 51; and Bhaskar Sil, 69 helped Flo Trend renew or extend $14 million worth of contracts between 1998 and 2012, and lobbied another city agency to use the company as well.
In exchange, the trio was gifted with $175,000 in bribes, including Yankees tickets that they split among themselves.
Mr. Jones, who resigned in October 2013, scored Montauk fishing trips, along with a Las Vegas vacation with his girlfriend during which the two stayed at the Treasure Island Hotel and took in a David Copperfield magic show.
Mr. Bentsen, who left the DEP during the investigation, joined Mr. Jones in Montauk, and also snatched up some cell phones for himself.
Mr. Sil, who retired in 2012, also got mobile phones, as well as $3,000 worth of laptops.
"DOI's investigation uncovered a bribery scheme that benefited everyone but the City, and defrauded the taxpayers of tens of thousands of dollars," Mark Peters, commissioner of the Department of Investigation, told the New York Post.
As a result of these revelations, the DOI is strengthening its oversight over the DEP, for which every New Yorker can be thankful.