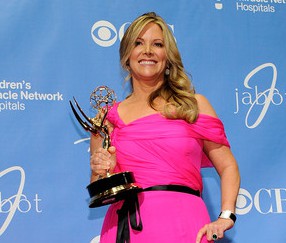 Of all the Jeff Koons artworks that Los Angeles collector Maria Arena Bell and her husband Bill Bell, Jr., have purchased — and there have been many — the one most disputed between them was the Hoover vacuum-cleaner sculpture.
"I was a bit horrified," said Ms. Bell, who adds that the work, eerily-lit and immaculate in plexiglass, sat in their living room somewhat "aggressively," with all that "fluorescent tubing." Even worse, "My husband and is known as a neat freak and people thought he had a shrine to cleanliness." Back then, she explained, strolling through the Whitney Museum of American Art Sunday, "not all of our friends knew who Jeff Koons was."
That, of course, was some time ago. Now, pretty much they all do.
We joined Bell, a "significant" collector of the works of Koons, for something of a last hurrah, the Whitney's final night on Madison Avenue. Soon, it will move out of the brutalist masterpiece designed by architect-of-the-1960s-moment Marcel Breuer and across town to the Meatpacking district and into a riverside tower designed by architect-of-the-current-moment Renzo Piano. The closing show was the Koons retrospective, the artist's first in the U.S. Several of the works were on loan from the Bells — including a mammoth sculpture they had commissioned nearly two decades ago, kept funding, and just saw for the first time this past summer.
With the Whitney closing down for good at 11 p.m., we were among a crowd of people who began to pour in in the final hour. "They all want to be here at the end," noted one coat-check employee, while someone near the ticket desk explained to one visitor that the fifth floor was dedicated to "Leonard Loudner."
"It's historic," Bell said, of our timing, smiling, flanked by a gang of family and friends, including artist Shephard Fairey, who had just donated artwork to raise funds for a charity she chairs, Americans for the Arts. (Its National Arts Awards, held last Monday at Cipriani, annually raises about $1 million for arts education, among other projects.)
Somewhat surprisingly, Bell looked neither art-world super-serious or Hollywood shiny. She looked like a sensible, wholesome Midwest Mom highly unlikely to be buying artwork by an artist known for some of the most ribald, even filthy, sexual imagery of the last two decades. But yet, delightfully, that's what she is.
As we got off the elevator to "The New" slice of the exhibition — which included some of those gleaming, glowing vacuums — Bell explained that her first visit to a Contemporary art exhibition ever was probably to the Whitney. It was the Julian Schnabel show of 1987. She sort of crashed the opening party, she admitted. "I think we had one invite for six people. It was right after college," she added, as if that explained the math. She was hooked. She went on to be Emmy-winning head writer of the Young and the Restless, went on to marry Bill (Making her, the New York Times noted last year: "A member of one of Hollywood's royal families: Her husband's parents created The Bold and the Beautiful and The Young and the Restless, which has been daytime television's top-rated serial for 25 years in a row.")  and to sink a decent sum into art. And, since the Bells began collecting in the early 1990s, right after the art market had collapsed, they got some bargains.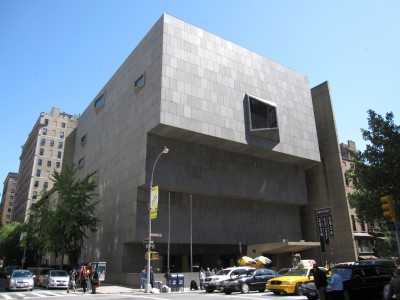 Early in their collecting career, she and her husband were really drawn to Warhol… but then began to look for more contemporary artists of similar sensibilities. "Jeff was the logical choice." Their first Koons was one of his 1986 Fisherman Golfer stainless steel decanters from his "Luxury and Degredation" series. It was a meditation on the artist's father's drinking, she suspects. (One of an edition of three, plus artist's proof, interestingly, "Jurassic Park" thriller author Michael Crichton owned one of the others.)
The exhibition we were touring, somewhat sadly, had originally been planned to travel on to the Los Angeles County Museum of Contemporary Art. Bell was co-chair of the board for years. Financial woes and upheaval stemming from the hiring (which she backed), then excising, of beloved New York uber-dealer Jeffrey Deitch as director, cut short that plan, although there is an upcoming Matthew Barney show she's excited about, she notes.
The collector began to positively glow as we approached Play-Doh. The giant, arguably gorgeous, tower of 27 different neon-colored blobs was sold to the Bells two decades ago – and they, amazingly, continued funding Koons' experimentations for decades on how to replicate identically the children's vividly colored clay. He wanted to "capture the moment when people take Play-Doh and tear it apart," she noted, and, eventually, he did.
She and her husband collect very few artists, and in depth, she noted, and she said they are usually somewhat quiet about it. But "This [show] has brought us out of the closet for Jeff," she said.
At the closing approached, we headed downstairs.
At 10:56 p.m., a security chief speaking on walkie-talkie to the guards throughout the building started a countdown: "10, nine, eight…" as visitors chanted along. Then: "Okay, close it down!"
The packed lobby of the Whitney Museum of American Art cheered. New tenant the Metropolitan Museum of Art will open it in 2016, most likely as a home of contemporary art. And while the Met has displayed Koons sculptures on is roof, it lists no Koons in its collection. So far.