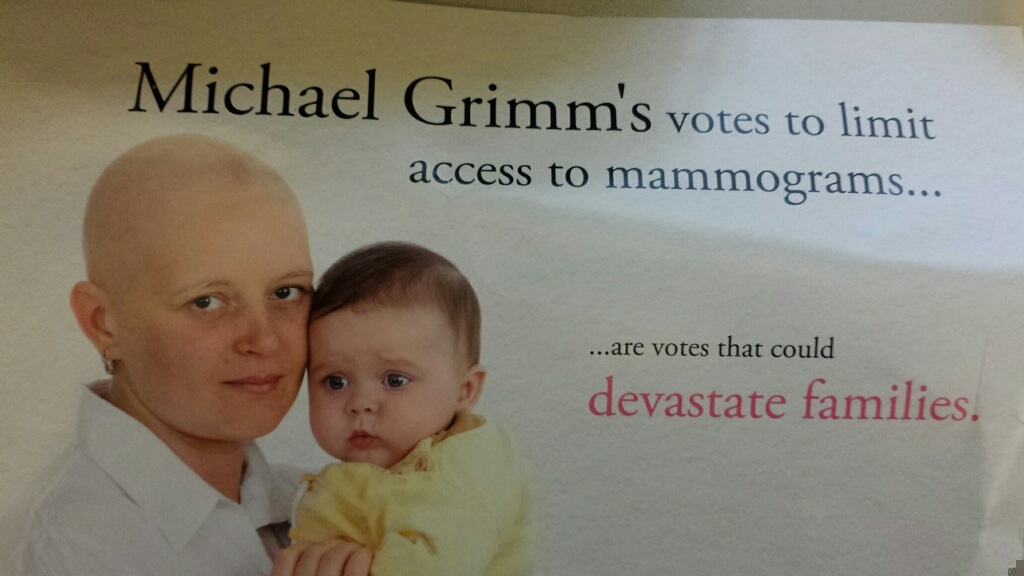 The difference between a breast cancer survivor and a victim are the votes Michael Grimm took in Congress, a series of biting new mailers from New York State Democrats allege.
The mailers, funded by the State Party and blasted out widely to residents in the Staten Island and Brooklyn-based district, bludgeon Mr. Grimm, a Republican, for votes he took to repeal Obamacare–which requires insurers to cover mammograms every one to two years for women at age 40.
"Sometimes the difference between a survivor … and a victim is the cancer screenings Michael Grimm voted to cut," one mailer, appearing in mailboxes during National Breast Cancer Awareness Month, read.
Another mailer, featuring a cancer-stricken woman and a baby, said Mr. Grimm's votes could "devastate families."
"Michael Grimm's votes to limit access to mammograms … are votes that could devastate families," the Democrats alleged.
A third mailer with an image of interlocking paper dolls said that "1 in 8 women gets breast cancer … but if Michael Grimm limits access to cancer screenings, that woman might find out too late."
The mailers come as New York State Republicans skewer Mr. Grimm's opponent, Democrat Domenic Recchia Jr., for votes he took to raise property taxes and support a congestion pricing plan when he served as a Brooklyn city councilman. One mailer, no less blunt than the Democrats' efforts, portrayed Mr. Recchia as a circus clown. Another showed him wearing a dunce cap.
The race for the swing district, won barely by President Barack Obama two years ago, has long been bitter. Mr. Grimm was indicted in April on wire and mail fraud charges related to a Manhattan restaurant he managed before he was elected to Congress. Mr. Recchia repeatedly ripped Mr. Grimm for the charges, though the Republican pleaded not guilty and will be tried in December. In turn, Mr. Grimm tried to tie Mr. Recchia to liberals relatively unpopular in Staten Island like Mayor Bill de Blasio and also mocked Mr. Recchia for his lack of mastery of basic policy.
Though neither candidate has overly emphasized women's issues on the campaign trail–and one extensive mammography study questions whether the tests even work–Democrats in the state and nationally are hoping the Republican Party is becoming too toxic for women voters. State Democrats formed the Women's Equality Party to help Gov. Andrew Cuomo underscore his support for various women's rights issues as he takes on a social conservative in Republican Rob Astorino. Nationally, the Democratic Congressional Campaign Committee and U.S. Senate Democrats are looking to avoid midterm landslides by appealing to women voters.
Mr. Grimm's campaign called the Democratic mailers "disgraceful" and "desperate."
"It is beyond disgraceful and desperate to exploit female cancer patients for cheap political gains with these absurd and outright false attacks," said Nick Iacono, a spokesman for Mr. Grimm. "The Congressman's legislative record clearly demonstrates his relentless commitment to finding a cure for breast cancer and all forms of cancer as evidenced by his steadfast support for additional funding for cancer research and his presence at all the local charity walks and functions throughout Staten island and Brooklyn."