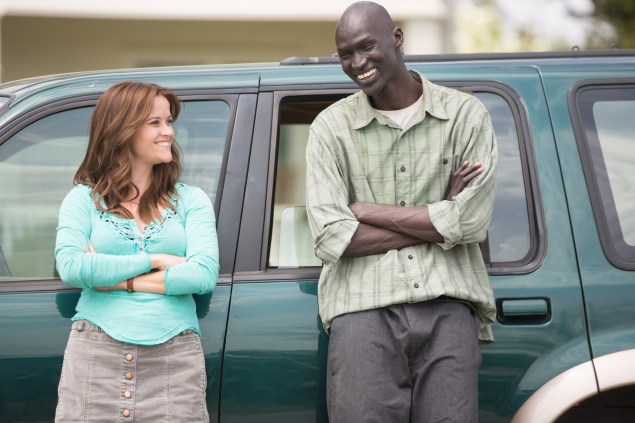 Buxom, tough, and devoid of any trace of glamour, Reese Witherspoon may be the reason French-Canadian director Philippe Falardeau (Oscar-nominated Monsieur Lazhar) secured the financing for The Good Lie, but she's not the centerpiece. This is the story of a handful of the Sudan's "lost boys"—displaced persons who narrowly survived the Sudanese genocide in one of the bloodiest chapters in Africa's civil war and fought their way to America to forge a new life against overwhelming odds.
---

THE GOOD LIE ★★★½
(3.5/4 stars)

Written by: Margaret Nagle
Directed by: Philippe Falardeau
Starring: Reese Witherspoon, Arnold Oceng and Ger Duany
Running time: 110 min.

---
Ms. Witherspoon plays Carrie Davis, the American employment agent whose job is to find them jobs and housing, but who also ends up acting as a reluctant but compassionate compass, guiding them out of confusion and fear to find their place in a new, sometimes hostile world. She's first-rate, but she's just one cog in a daunting wheel of immigration snafus. Dominating both the action and the emotional impact of the film, the desperate but tenderhearted immigrants (all played by actual Sudanese survivors, some of them former child soldiers) are the focus. The Good Lie is their story, and they are unforgettable.
Among the 3,600 homeless children who made it to American shores after the destruction of their homeland in the 1980s, two orphaned brothers, Mamere and Theo, and their kid sister, Abital, join a small group of children whose families have been massacred on an arduous journey across the desert in search of freedom. Siblings and friends alike die of starvation, dehydration and attacking soldiers. Theo sacrifices himself to a rebel platoon to save the others—a heroic act that governs Mamere's sense of justice and fair play for the rest of his life.
Joined by two brothers from a neighboring village, Jeremiah and Paul, the remaining children bond as a family for self-protection and walk 785 miles to Kenya by way of Ethiopia. After 13 years in a refugee camp, Mamere (Arnold Oceng), Jeremiah (Ger Duany), and Paul (Emmanuel Jal) finally arrive at JFK and find themselves separated from Mamere's sister Abital (Kuoth Wiel) by bureaucratic red tape. She is sent to a foster family in Boston, while the boys land in Kansas City, Mo., where they meet their new counselor, Carrie. Their experiences in a strange new country are sometimes amusing, often wrenching. Carrie's job is repatriation, but it's not easy with three guys who don't even know what a telephone is. McDonald's doesn't want to hire them, but she lands them a job stacking grocery shelves. Her job is supposed to be finished, but amazed by the abundance of food and appalled that so much of it is thrown away because of an expiration date, they break the rules and she's constantly forced to re-enter the scene to save them, which makes for a number of touching situations between a white girl whose personal life is a mess, and three African men whose lives are a tangle.
The heart of the film derives from the fact that the more they all get to know each other, the more they all mature and their differences blend. The title comes from a lesson in Huckleberry Finn—that a lie is good if it helps others, the way Huck lied to save Jim from the slave traders.
Meanwhile, the well-researched script by Margaret Nagle, culled from anecdotal interviews with Sudanese immigrants, catalogues the effects of massive culture shock with humorous and fascinating detail. Mamere's intelligence allows him to adapt to America better than the others, but he's tortured with guilt by his older brother's death. After everything he's been through, Jeremiah's faith in God is challenged by the crudeness of American work ethics. And Paul never adjusts at all, succumbing to drugs and other deceptive temptations at his boring factory job that he thinks will help him forget the past.
Throughout their trials, it's Carrie who goes out on a limb to become a refugee sponsor with the capability of getting them back together with their lost sister in time for Christmas. In her personal and professional capacity, Carrie also learns the acceptable value of a "good lie" that enriches the lives of others. By the end, you feel you've gotten to know these people like your own best friends.
The people from Sudan—actors and musicians whose courage and humanity uplift the soul—are all wonderful. And Reese Witherspoon' presence is very much felt, although she never upstages the others, giving them space to develop their characters and often command the center ring. The result is a feeling of commitment to a vital project that commands attention and pays off in heart and soul.