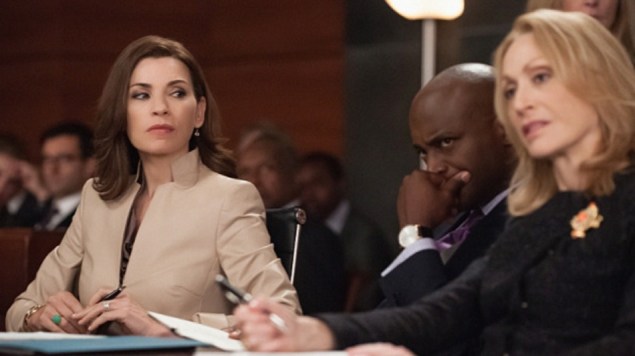 This was a weird episode. Mainly because Carey Zepps conveniently knows Russian. But I digress.
Here's what you need to know about Alicia Florrick: she doesn't care whether or not you like her. We are in an age in which 19-year-olds are writing papers about Walter White, and Tony Soprano, and Don Draper, but we are still about 10 years from the college classes that center on Women Who Just Don't Give A Shit. Alicia is a living demonstration of what it means to be a Female Honeybadger on television. And it's our pleasure to witness it.
This episode begins through the mind's eye of Elsbeth Tascioni, who might be the best-named character of all time. The Good Wife is comfy with you sitting at home going, "What in the holy hell?" while Crossing Jordan's Jill Hennessy yells things in a weird, enormous scarf. And ironically, or not at all ironically, this week's case is about a woman who is in court for no other reason than being "a bitch." And by "a woman," I mean five-time Tony nominee Jan Maxwell, for whom poems should be written (not to be a theater queen, but, um, Follies).
Arguably the most interesting scene of the episode was a brief moment between Alicia and Dean (Taye Diggs), during which a white woman and a black man compare notes on bias. We could have an entire episode just about that, but The Good Wife makes this into a throwaway exchange, and television is all the better for it.
Diane's all, "I'll help you with your case," and then proceeds to click a thing no one should ever click. I was yelling at my TV, "DIANE!! THINK ABOUT MALWARE!!!" But my cries were to no avail, because apparently someone is holding Florrick, Agos, & Lockhart ransom for 50 G's, and they have 72 hours to pay up or have all their client files destroyed. Diane tells Kalinda to get on the case and figure out who is jamming up the firm. Everyone's worried (including Taye Diggs) because they're all due in court and if anyone finds out how basic they are for having been hacked, it's all over. Ransomware is a thing, y'all, that was pretty much just from Russia (according to Wikipedia), but then other countries have caught on, to the tune of several million dollars a year. Watch your backs.
Kalinda then goes to see a very serious brown-haired woman at the FBI (Lana Delaney, who's been around from jump) for help, and they've clearly gone down on each other before, because that's what Kalinda does. I found this incredibly disappointing, because Kalinda Sharma is very smart, and one of my favorite TV characters ever, and all of this is beneath her. I would like to think that she could solve cases without the help of her vagina. She's leaving the show after this season, and I am praying to the Kings for an exit befitting her. Does anyone remember when Kalinda reached for a baseball bat, and you knew it was about to get straight hood? I miss those days. Maybe there's some sort of long game being played with Cary and Kalinda, but again, the show hasn't put in the legwork to get me invested in that relationship, so when Cary catches Kalinda and Lana in the elevator, I can't bring myself to care. And when Kalinda and Lana are getting it on, I can't bring myself to care about that either. Mainly because I just don't trust Kalinda. It's been a thousand years since I've seen honest behavior from her, so I don't know whether she's being real with Cary, or with Lana. I also don't need to know whether or not she's out to her parents, because I've already bought the bill of goods that Kalinda is neither gay nor straight, but sexually expedient.
Then, all of a sudden, Eli turns up, yelling at Alicia for allowing Finn to introduce her for her candidacy speech. Eli is all about Peter doing the honors, but Alicia would rather have Finn give her opening remarks, because that's who she'd rather be making out with. (I'm projecting, but, duh, right?) More on this later.
When Diane screws up her email address, suddenly she has to call David Lee (who's really excited about being in Diane's old office) to smooth it all over, and David does his best impression of Scar from The Lion King. I have to admit, it was quite arresting when Diane walked by Will's office, but I really don't know what the show is gonna do with David, or Louis Canning, or anyone who's still kicking it on the 28th Floor. Diane is upset at how ghetto and roach-infested her new office is. But get over it, Diane. We've all lived in those apartments.
We go back to the Jan Maxwell case, during which it's revealed that Elsbeth is insane. She's always been a favorite character on the show, and Carrie Preston has duly earned her Emmy for this role. But why is Elsbeth out of her mind? Why has this lawyer, who has gotten both Alicia and Will out of all kinds of trouble, gone so craycray? Also, because of this character's history, I had a hard time figuring out my rooting interest. She's going up against Alicia, so I guess I'm supposed to root against her, but she's always been terrific, and even when she's telling her mind-clown to stop talking to her, I still love her, so I don't know what in the blazing bejesus to do. Also, huh?? Kyle MacLachlan is back as AUSA Josh Perotti?? Maybe I've been watching too much Masters of Sex, but unless we're going to learn that Elsbeth has a brain tumor, I don't know what's happening.
Admission: I love it when Alicia and Finn get drinks (by which I mean, tequila shots). The Kings have said that they are playing the slow-burn, long-game thing with these two, and it's working, because I now officially just constantly scream sex words at my television whenever these two are on screen together. I don't know how it's ever going to happen, especially now that Alicia's running for public office, but what this show needs desperately is a good dose of freaky-deaky.
Speaking of Finn, Alicia and Peter convene about her intro in a very fateful hallway (I'm deciding, without any evidence, that this is the same hallway in which Alicia slapped Peter in the pilot, because deciding that makes me feel good), and it gets real. Peter and Alicia's non-marriage is the most interesting non-marriage on television, because they've both admitted to each other that it's all about political convenience, but they haven't yet settled into the Bill-Hillary of it all. It's still uncomfortable enough for a lot of yelling to happen. I think Peter smells what's going on between Alicia and Finn and is pounding his ape-chest in protest, but it's too late to stop God's plan for Alicia.
Is anyone else disappointed that we didn't get to hear Alicia's speech? After this five-episode dance, I wanted to know what Alicia had to say to the voters of Illinois. I think the show owes us a statement from Alicia about why she's really running. But perhaps that's the question we're left with. Why is Alicia running, really? She's surrounded by all these men telling her what to do, and even though she's a bad-ass, she's still, at the end of the day, doing a thing some dudes have suggested to her. I find this intensely disturbing, and it keeps me awake at night, and it's why this show is so good.