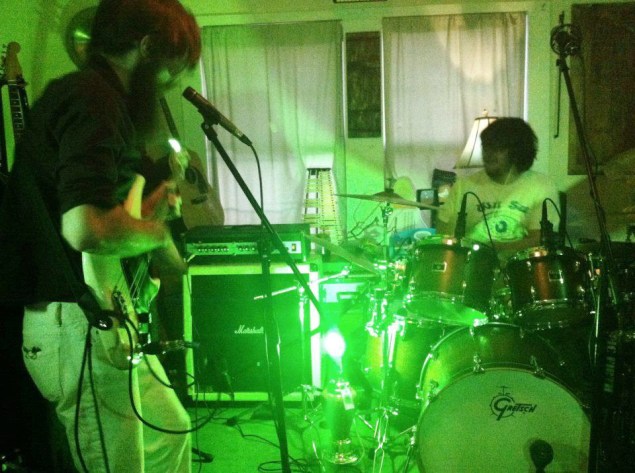 The name of the band Cerulean Giallo refers to a genre of Italian crime novels and films, popular in the early '70s, which incorporated elements of horror and eroticism. ("Giallo" means "yellow" in Italian, and the pulp mystery novels that enjoyed popularity in fascist Italy bore distinctive yellow covers.) A prime example of the genre is the work of the director Dario Argento, who employed the progressive rock band Goblin—an outfit that toured the U.S. to rapturous response earlier this year—to produce soundtracks for his films Profondo Rosso and Suspiria. The name's play on words might be interpreted as an homage to Cerulean Giallo's fellow North Texans in Pinkish Black—who toured with Goblin—but they say it's not so. Nonetheless, synchronicities abound.
In August, the trio performed at Brooklyn's Black Bear Bar—a Williamsburg spot that takes a distinctly low-key approach to marketing and promotion—on what was planned as a seven-date swing through the Midwest and East Coast. A road accident forced them to cancel the last date of the tour (in New Orleans) and their homecoming show in Denton, Texas. Playing DIY venues and relying on friends' word of mouth to bring audiences, the band—whose dynamically varied music is strongly prog-influenced—was occasionally an awkward fit on bills with political punk and folk bands. Still, they met like-minded musicians and listeners wherever they went, and consider the experience to have been a positive one. "It's hard for bands to make it in a place like New York," said bassist/synthesist/vocalist Justin Gray. "Finding rehearsal studios, venues and audiences can be a challenge. But it's great to see bands there doing what they want for their own reasons—not being bound by genre."
Having performed around Denton in solo projects and the black metal band Depths, Mr. Gray (A Smile Full of Ale) and drummer Brandon Young (Quixod) formed Cerulean Giallo in 2011 to allow them to explore their interests in prog and jazz. They played their first show at a Halloween party; house shows are a staple of the Denton scene. In 2013, they were approached by Sarah Ruth Alexander—a vocalist who trained as an opera singer, holds a music degree, and also plays dulcimer, harmonium and other assorted effects—who expressed an interest in recording with the band. Ms. Alexander's own music incorporates spoken-word and performance art elements, and her previous collaborations range from the old, weird Americana of Warren Jackson Hearne and the Merrie Murdre of Gloomadeers to the anarchic experimental improv of Vexed UK, Zanzibar Snails and Violent Squid. The other musicians found her so sympathetic that she soon became a full member of the band, playing her first show with them at 2013's 35 Denton music festival.
Together, the three create a sound that's cinematic in its sweep, with an approach as technically rigorous and an impact as powerful as Goblin and their '70s contemporaries like King Crimson, Magma, Pink Floyd and Yes. For years, prog was the influence that dared not speak its name, scorned for its pompous grandiosity. But underneath the genre's veneer of excess lurks an undeniable muscular musicality, which forward-looking musicians recognize and seek to emulate. A broader musical vocabulary, they realize, only enables one to express a wider variety of thoughts and feelings. For listeners teethed on punk and metal, a band like Cerulean Giallo can provide a bridge (or a gateway).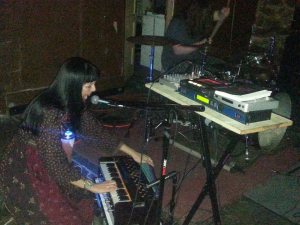 The intermingling of influences within the trio produces a potent brew. Messrs. Gray and Young lay down a rhythmic foundation with the bristling authority and kinetic heat of the classic Yes and King Crimson engine rooms. The bassist uses a guitar string in place of his low E string and runs his signal through both guitar and bass amplifiers to fill the frequency spectrum—in the same way doom metal guitarists tune their instruments to the baritone range to achieve a heavier, darker sound. Over the top (both literally and figuratively), Ms. Alexander runs her ethereal, otherworldly soprano through a battery of electronics to create a sonic imprint that's alternately haunting and majestic, while her instruments, with their folkloric associations, provide a striking contrast with the aggressive modernity of the band's other elements.
On the band's eponymous debut CD—mainly recorded at Eagle Audio in Fort Worth with prolific producer Britt Robisheaux (The Theater Fire, Drug Mountain) behind the controls, and self-released this month—the musicians in Cerulean Giallo are able to fully develop their thematic ideas at length, with most tracks wending their way through several movements. "Perfume of the Lady in Black" starts out stark and simple with just dulcimer, a minimal beat and a wordless vocal that resonates like an echo from the plague years. Then the piece explodes into a galloping jam in 6/8 before a whirlwind of electronic noise sweeps away everything in its path. Finally, the dulcimer returns to play a repeating figure in support of an ever more heated dialogue between bass and drums.
Elsewhere, "Two of Three"—the first collaboration with Ms. Alexander, recorded at home in Denton by Greg Dixon—juxtaposes grooves straight off of Yessongs with shrieking black metal vocals from Mr. Gray in place of the British band's celestial harmonies, and includes a bravura vocal turn from Ms. Alexander that showcases her range and control, along with the pellucid tone of her pristine voice. And on the climactic "Abraxas is Bleeding Out," churning vats of roiling rhythm contrast sharply with a harmonium episode in waltz time that lends the proceedings an air of demented cabaret. Three tracks are currently available to stream or download on Cerulean Giallo's Bandcamp page and the band plans to make physical CDs available there soon.
Cerulean Giallo has plans for further road excursions in spring and summer 2015. The key, said Mr. Gray, is "finding bands [to play with] that are … not similar, but also striving to do stuff that's off the beaten path."
[bandcamp width=350 height=442 track=2710756384 size=large bgcol=ffffff linkcol=e99708 tracklist=false]