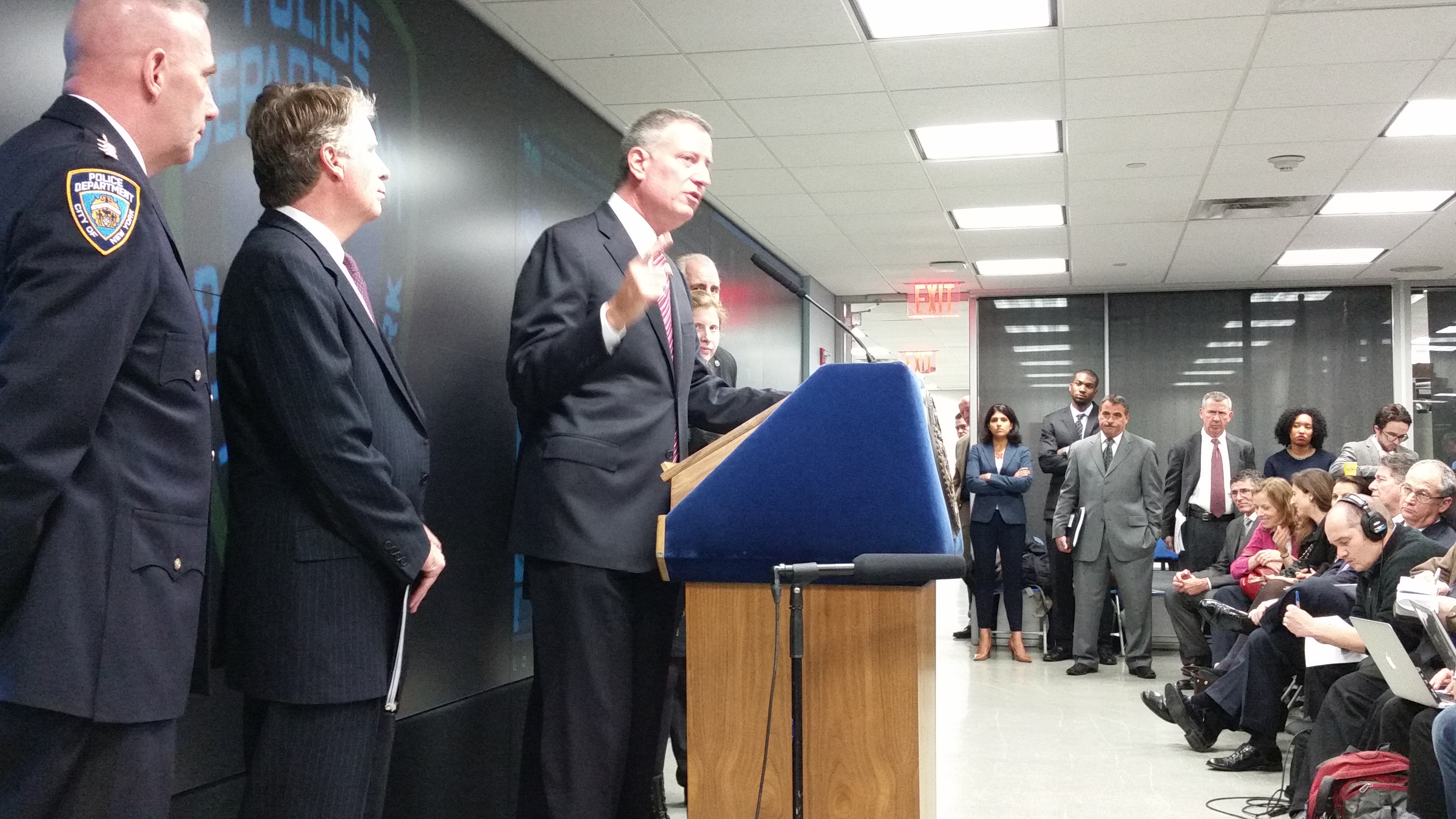 The NYPD will receive $160 million in new mobile gadgets, including tablets and other handheld devices, to enhance the way they fight crime and process suspects, Mayor Bill de Blasio, his police commissioner and the Manhattan district attorney announced this morning.
41,000 mobile devices will be provided for every police car and patrol car next year at some point, though Mr. de Blasio would not specify exactly when all cops will have the devices in hand. Jessica Tisch, the NYPD deputy commissioner of information and technology, said about 40 are currently being tested throughout the department.
"We have a 21st century set of challenges—these are 21st century tools to fight the challenges that we face," Mr. de Blasio told reporters at the NYPD's Lower Manhattan Security Initiative Command Center.
Touting a record low number of shootings in August and September, Mr. de Blasio and Police Commissioner Bill Bratton explained that the mobile devices would allow officers in the field to access all kinds of data only available at police headquarters. With the swipe of a finger, officers will be able to view "real time" 911 data, know whether a suspect has a warrant out for their arrest, see photographs of missing persons, scan fingerprints and find out if registered gun owners are nearby.
A beaming Bill Bratton, the police commissioner, said the holiday season was coming early.
"We will be able to utilize this technology for so many purposes," Mr. Bratton said. "The holiday season has come early for the NYPD and this city."
Mr. Bratton spoke about the recent case of an elderly man who went missing and was eventually found dead, asserting that the new handheld devices could have helped police find him before he died. "Every cop, traffic agent and school security agent would have his picture and description," he said.
The tablets will ruggedized–designed to be shock-resistant and hard-wearing. Ms. Tisch demonstrated the resiliency of one tablet by dropping it on the floor as cameramen snapped away. Mr. Bratton, on his second tour as police commissioner, said he had been "dreaming" about the technology "for a long time."
Manhattan District Attorney Cyrus Vance Jr. secured the cash for the program, using criminal asset forfeiture funds from a settlement with a bank accused of providing money to terrorists.
"By allocating funds secured as a result of criminal misconduct back into our communities, we are placing real-time data in the hands of every police officer," Mr. Vance said. "Whether preventing everyday street crime or a potential act of terrorism, this will enable officers to better protect New Yorkers, while at the same time creating a fairer criminal justice system."