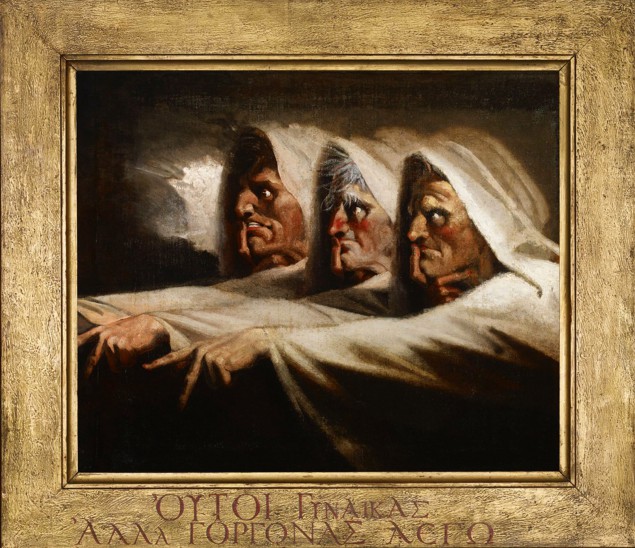 Something wicked has arrived at the Huntington Library, Art Collection and Botanical Gardens. The institution announced today that it has acquired Anglo-Swiss painter Henry Fuseli's iconic Shakespeare-inspired painting The Three Witches.
The painting, one of three existing versions of the composition, is based on the crucial scene in Shakespeare's Macbeth when the play's protagonist comes across the fate-telling witches. Two other, more finished, versions belong to the Kunsthaus Zurich and the Royal Shakespeare Company in Stratford-upon-Avon. By comparison, "this is very loosely painted," said the Huntington's director Kevin Salatino by phone. "Usually his style is tight, almost like sculpture and lit with theatrical light from below."
"He was really a proto-Romantic artist," he added. "Usually he chose outrageous, highly dramatic, subjects. His work focused on the sublime and the heroic,"
Its loose, thick brushstrokes, and the fact that it predates the other versions, indicate that it was, in fact, the "final preparatory oil study," said Mr. Salatino. This version sits in a gilded frame that is painted with a quote from Aeschylus' tragedy The Eumenides: "These are women but I call them Gorgons." The work dates to the same time as Fuseli's great masterpiece The Nightmare, which belongs to the Detroit Institute of Arts, placing it at a crucial point in the artist's career, according to chief curator of European art Catherine Hess, who also spoke to The Observer by phone.
"He loved the ominous, the dark, the macabre, and was interested in the supernatural," she said. She emphasized the influence that the painter's great heroes had on his work, specifically Shakespeare, Milton, and Michelangelo. The Huntington's extensive collection of Shakespeare's early folios and quartos, and holdings of William Blake (a contemporary and friend of Fuseli) are complemented by this acquisition, she noted.
The museum acquired the painting through London dealer Jean-Luc Baroni, who bought it from a private collector. Prior to that, Mr. Salatino said, "We know the painting was at Narford Hall in Norfolk, before 1825. That was the year Brigg Price Fountaine, the owner, died. It is recorded as having hung in the Billiard room at Narford Hall, seat of the Fountaine family, in about 1820." After that it remained with the Fountaine family until 1894, when Christie's first sold it. It changed private hands again in 1976 at Sotheby's, in 1995 at Christie's, and in 2003 at Christie's. This is the first time in the painting's history that it has belonged to an institutional collection.
Just in time for Halloween, the The Three Witches will debut to the public beginning this weekend, on October 11. And opening on November 22, the exhibition "Eccentric Visions: Drawings by Henry Fuseli, William Blake, and Their Contemporaries," will include 30 never before shown drawings and watercolors by Fuseli, along with works by Blake, George Romney, James Barry, and others.