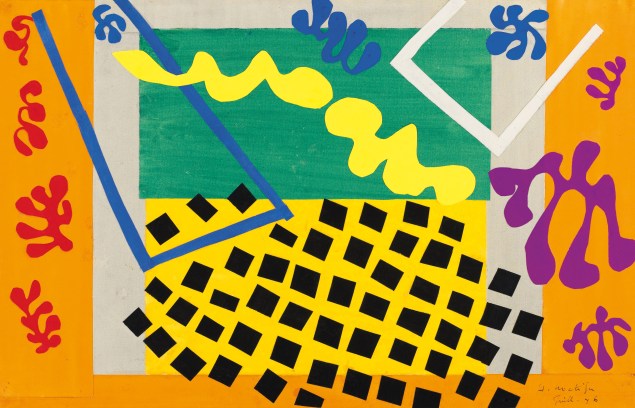 Playful, daring and immediate, Henri Matisse's cutouts incite the giddiness of a circus; the reveries of a tropical paradise; the dynamic, interwoven eroticism of an orgy. No matter how well you think you know the artist or this work, nothing can prepare you for the revelatory experience "Henri Matisse: The Cut-Outs," a staggeringly ebullient exhibition at the Museum of Modern Art through February 8. Rarely does a show like this come along; one that celebrates a relatively underappreciated aspect of an artistic giant, forcing us to see his entire oeuvre with fresh eyes.
It's generally acknowledged that Matisse (1869-1954) was one of the greatest-ever colorists with a paintbrush, and that he was also a master draftsman and sculptor; but this show demonstrates that he was equally heroic and poetic at drawing, painting and sculpting—carving light—with colored paper and scissors. This is the artist's miraculous late work; and "The Cut-Outs," organized by Karl Buchberg, Jodi Hauptman and Samantha Friedman, is essential to our understanding of Matisse; as relevant as shows of late Titian, Rembrandt and Picasso.
Most of us are at least somewhat familiar with Matisse's innovative abstract cutouts, the creative process he began in 1930, when he was designing the large painted mural The Dance for the Barnes Foundation. For The Dance, the artist used flat shapes of pink, black and blue, over and through which eight soft-gray female nudes float like clouds, dance and tumble—swelling into ecstatic volumes.
Dr. Barnes said that The Dance, like a "rose window," had transformed the Barnes into a cathedral. Matisse agreed, adding that the mural "is like a song that mounts to the vaulted roof." With The Dance, Matisse said he felt as if he had "arrived at giving to the spectator the sensation of flight, of elevation."
MoMA's chronological installation of more than 160 works, some of them room- and mural-scale, is less a show and more an intoxicating freefall—a heady immersion. Matisse's buoyant colored paper compositions animate, climb and span the walls, filling the galleries like symphonies; transforming the museum into a garden fantasy, a dazzling constellation.
Some of these works catapult us into the heavens; others submerge us deep within the sea; others, still, take us to the boundary where reality meets dream.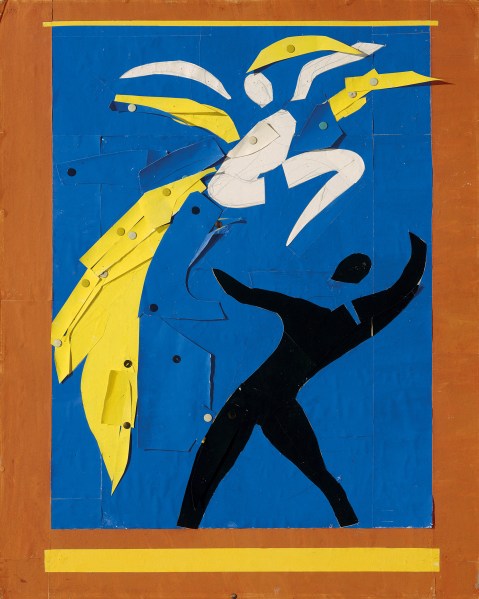 MoMA's galleries come close at times to evoking the wall-to-wall jungle of colored paper forms that filled Matisse's ateliers in Paris, Nice and Vence, where open windows framed views of palm trees and the sea, and white doves flew freely throughout the studio—where Matisse kept the rooms darkened, afraid that his newly colored creations might make him go blind.
Matisse engaged extensively, almost exclusively with cutouts beginning in the late 1940s, after stomach cancer confined him to work primarily from his bed and chair. It was with limited mobility, and the help of assistants, who painted the sheets of paper and pinned his cutouts to the walls, that he completely reinvented himself as an artist.
While creating the cutouts, Matisse saw himself as a juggler, an acrobat, certainly a magician. Without hesitation, Matisse swiftly turned the colored papers in his left hand and snipped with his right; as pliant, abstract quivering creatures—figures, stars, flora and fauna—rained down from his hands onto his lap. Completely liberated, Matisse compared cutting to the "sensation of flight"—adding that he was perhaps more sensitive with scissors than with pencil, pen or charcoal.
During a visit from Picasso and Françoise Gilot, Matisse made cutout portraits of the couple. "We were spellbound, in a state of suspended breathing…" wrote Gilot. Matisse's performance had reduced Picasso to stunned silence. At MoMA, I had a similar response. But not everyone shares my enthusiasm.
One of the difficult aspects of Matisse's cutouts is seeing them as more than ornamental decoration. They are certainly that—at the utmost level. Matisse's cutouts, among the highest and most harmonious forms of decorative art, reaffirm and hold the walls (the plane). Matisse's abrupt color-changes are as precise and emotively charged as those of Poussin; yet his cutouts can shimmer as background when your attention is elsewhere. Serene yet muscular, the cutouts are also among the greatest expressions of the organic relationships between torqued figure and malleable ground. They expand and contract, pulsing within the plane; transforming flat fields into ocean, atmosphere, earth and flesh.
Walk through MoMA's sixth floor: "The Cut-Outs" begins with an early gouache study for The Dance and Matisse's later cutouts of dancers—designs for the ballet Rouge et Noir (1937-8). To create the ballet dancers, Matisse employed gouache, cut-paper, pushpins and glue. He positioned and repositioned pieces of colored paper, and even expanded and contracted the frames of the rectangles. He was composing not only the figures but also the very spaces they inhabit. In one bold, stage-curtain design, reminiscent of both Mondrian and the Barnes mural, one figure leaps high above another, as if double-bounced on a trampoline.
From here we move into Matisse's cutout maquettes for the journals Cahiers d'Art and Verve, and for his illustrated book Jazz (1947). These works, among the masterpieces of 20th-century graphic design, hark back to the Barnes mural, but also announce a new path for Matisse—whereby he begins to interpret the world in terms of personal signs or hieroglyphs. In Jazz, the yellow spiked forms surrounding Icarus suggest barbs, birds, seeds, plants and stars. Man is lasso and lightning. Woman is bone, river, womb, fruit, column, Venus and vase.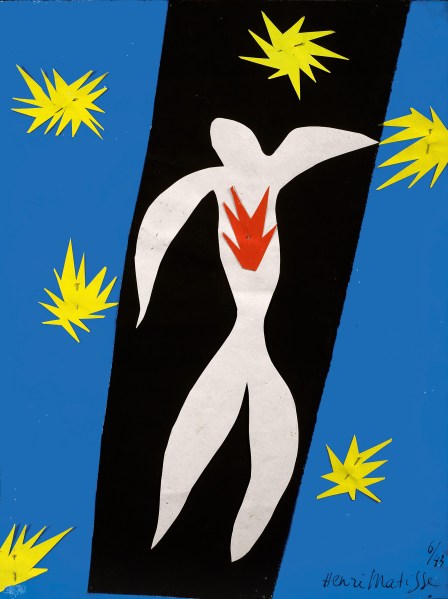 Other knockouts at MoMA include the large enchanting panels Oceania, the Sky and Oceania, the Sea (1946), in which whole universes—milky, enigmatic signs, seemingly conflating all of creation—float within fields of golden sand. In another lateral cutout, The Thousand and One Nights (1950), magic lamps become belly dancers and big hands that sprout flowers, music, smoke and flames; and dozens of red and green hearts—each unique in shape, weight, color and volition—appear to progress cinematically. They invoke berries, thorns, heads, sea life and artists' palettes. You have a sense that the cutout, like the story, evolves and unfurls improvisatorially, through time.
Midway through the show is a magical section devoted to Matisse's Chapel of the Rosary in Vence, which he considered his crowning achievement; and over which he labored for four years, beginning in 1947. Matisse designed its stained-glass windows, sculpture, black-on-white-tile murals and liturgical vestments. MoMA displays maquettes for some of the windows and vestments, drawings for the murals and a trial stained-glass window fragment. We are then taken through Matisse's abstract classical visions of shuddering leaves, waves, nudes, monkeys, a gigantic snail and a series of acrobats who contort into triumphal arches, faces, bridges, flames and trees.
"The Cut-Outs" ends with Large Decoration with Masks (1953), a masterly maquette for a ceramic tile commission for the patio of Los Angeles collectors Sidney and Frances Brody. Nearly 12-feet-high-by-33-feet-wide, Masks is on par with those enormous 19th century machines in the Louvre: Gericault's The Raft of the Medusa, Delacroix's Liberty Leading the People.
A vibrant frontal assault—as flat as a playing card—Matisse's Masks comprises a white field filled with pink, orange, red, green and blue biomorphic blossoms. It is pure sensation—nearly too bright to face. At its center is a blue flora spine that climbs like a Tree of Jesse and fuses white flesh and colored bone. Flanking each end are classical columns; and anchoring the cacophony of color—like visions among fields of flowers—are two female faces, through which eyes and mouths drift like birds.
Conflating nature, Modernist abstraction and our classical past, Masks is a dreamscape as brilliant as a stained-glass window. It is a rush of color, a pure emotive environment as immediate as music. Like the rest of the cutouts in this show, Masks is the kind of artwork you feel first and think about later. Yet it reaches deep into our collective psyche. Celebrating beauty, joy and creation, it is the crescendo of a show that compels us to see Matisse and the whole world anew.