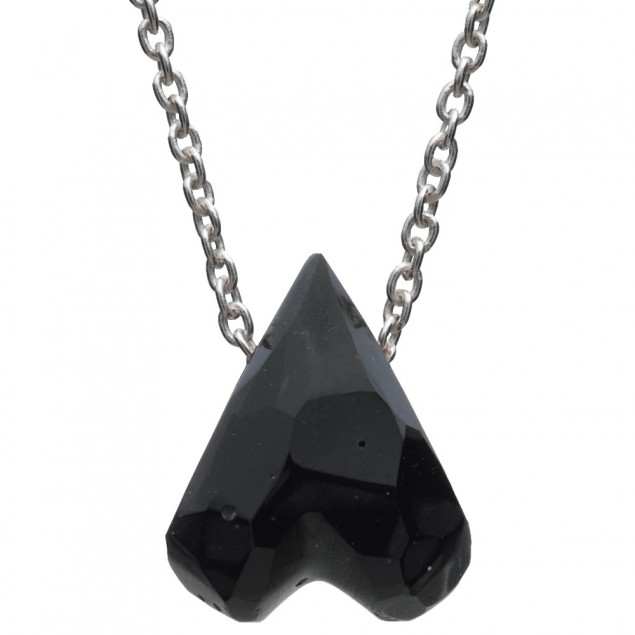 If your sweetie rocks a Wednesday Adams style all her own and Halloween in your home is celebrated as a cross between Christmas in the church of Satan and "My Bloody Valentine"'s Day, then you're in luck. On the occasion of the Met Costume Institute's "Death Becomes Her: A Century of Mourning Attire," the museum has put together a special line of merchandise in their store that's appropriately shiva chic.
A few highlights for those looking for just the right gift include a triplet of vitrified accessories: heart earrings, and two different sized heart-shaped pendants. The items' descriptions say it best: "These beautiful hearts are individually forged and polished from a dense, dark lava-like essence, derived from compressed, vitrified waste product."
Wait right there. What is vitrified waste product? That's some thick funeral home speak, and sounds a lot like a burgeoning cremation trend wherein the remains of a loved one can be compressed to form a unique diamond or colored gem. There are numerous outlets that provide this service, and according to a report by NPR one Swiss company processes the remains of between 800 and 900 individuals each year.
We doubt the Met is actually peddling organic remains in their shop, but we do wonder what "everything that was inorganic in the waste" was once. But, if that doesn't send a chill down your spine, and instead you're thinking, "That's just what she's always wanted," then a pair of vitrified heart earrings will run non-members $185, a small heart pendant costs $145, and the large heart pendant is $225. Each is roughly cut, set upside down, and made to resemble jet; a stone comprised of decayed wood that was popularly used in Victorian era mourning jewelry. The store's romantic pitch for has us sold: "Each piece is unique and precious, a heart of darkness born from the ashes."
And plenty of other items in the "Death Becomes Her" collection are either made of—or made to resemble—the opaque, austere stone, from a memento three-strand necklace to an ornately carved memento cameo pin. There's plenty here for just the right somber occasion, provided you don't forget the white lilies.